Seussical at Theatre of Youth: A KidsOutAndAbout.Com Review
Seussical at Theatre of Youth in Buffalo
On stage September 19-October 12, 2014
Reviewed by Helena Robin
I fully admit to being completely biased when it comes to performances at Theatre of Youth in Buffalo. I have yet to have a bad experience, my kids–who are 7, 10, and 15–are always delighted, and I just love what they do! That disclaimer tossed out to you, I will say that with the first performance of the 2014-15 season, "Seussical," Theatre of Youth once again hit it out of the park! My family wasn't alone in clapping, singing, waving our arms in the air, laughing and oooooo-ing.  Trust me, my 10 year old looked around her regularly to gauge what her level of social embarrassment should be based upon the behavior of her family.
In Short:
Set: Simple, very colorful, and surprisingly versatile.
Cast: Everybody did a great job and the casting was spot on.
Pros: The story engaged even the youngest audience members, fun special effects, great singing, after show Talk Back, pictures with the cast!
Bottom Line: It's a super-fun show that the whole family will enjoy! The plot might seem complicated for the littler ones, but, the singing, dancing, sets and costumes – plus familiar characters – keeps them completely engaged.
The Cast:
The Cat in the Hat, played by Ben Puglisi, was absolutely delightful. His range of facial expressions, funny impersonations, and physical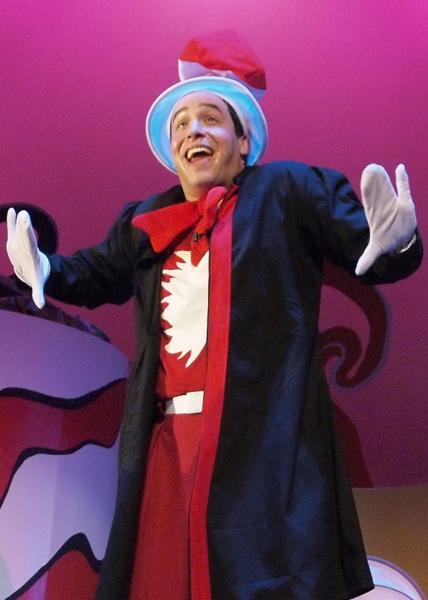 comedy skills was impressive and all the kids loved him!  Which is a good thing since The Cat is certainly the most recognizable character in the show.
Horton the Elephant was sweetly played by Bobby Cooke.  The challenge faced by Cooke in a show like Seussical is that his character is pretty low-key and laid back. Rather than providing an over-the-top performance to keep up with the colors, big personalities, and flamboyant characters, Cooke's Horton stood out for his somewhat quiet, less bombastic portrayal of the sweet elephant who saves not only the Whos, but also Mayzie La Bird's abandoned egg. Horton isn't a flashy character, but he was certainly beloved by everyone in the audience.
Zach Snyder makes his TOY debut as JoJo – the young Who "cursed" with a spectacular imagination. Snyder's JoJo is supremely expressive and instantly relatable to all the kids in the audience. He even has to take a bath where he imagines he's actually swimming in a pond with delightful dancing fish! I hope we see Zach in more TOY shows in the future!
Gertrude McFuzz, the poor bird with only one sad tail feather, is perfectly played by Arin Lee Dandes. Dandes is a regular at TOY, and she made a wonderful, sympathetic, and devoted Gertrude. I always look forward to seeing how she'll create yet ANOTHER new character for me and the kids to enjoy!
Maria Droz is another familiar face at TOY, and she is the most spectacular Mayzie La Bird imaginable! Droz somehow manages to bring a sweet and vulnerable quality to the over-the-top, vain, and selfish character...so beautifully that my kids all said that Mayzie was their favorite! It's initially hard actually to like Mayzie, in no small part because she abandons her egg. But Droz's performance enables us to see things from the perspective that her adorable little baby–who, by the way, is curiously half elephant and half butterfly–is truly better off with the selfless Horton that she ever would have been with Mayzie. Droz brings real magic to this complex character.
Sour Kangaroo is a larger-than-life and super-sassy character played ferociously by Loraine O'Donnell. O'Donnell's amazing blues-y voice belted out song after cool song accompanied by plenty of attitude. She is sarcastic, and critical and certainly a little harsh towards Horton and his determination to save the Whos.  It was O'Donnell' strong, opinionated performance throughout the show that made one of my young neighbors shout out (LITERALLY shout out "WHAT??!!") when Sour Kangaroo finally heard the Whos asking for help and told Horton that she would help protect them!  This moment was such a plot twist for my little neighbor that I'm certain he has become a fan of the theater for life!
The Bird Girls were all great!  They were like the Supremes: glamorously dressed (although with colorful wigs and lots of feathers), amazingly talented singers, and a joy whenever they were on stage. You can't see me, but I'm applauding and cheering just thinking of the Bird Girls played by Cecelia Barron, Celine Keefe, and Victoria Perez (who also plays Mrs. Mayor in a delightfully innocent sort of way.)
Equally entertaining in a different sort of way were the Wickersham Brothers. Rather than being playfully naughty and outrageous, the Wickershams were
super-cool and channeling a 70's sort of Soul vibe. Think Sly and The Family Stone! Raphael Santos, Dudney Joseph (who also plays Yertle the Turtle), and Jacob Albarella (who also plays Mr. Mayor) are a treat to watch and delicious to listen to!
A word about Jacob Albarella as a Wickersham and Mr. Mayor. For me, one of the signatures of every TOY performance is the high quality of the acting talent. In this performance, Albarella is the one who epitomizes this most of all. I've mentioned above how studly the Wickershams are, so you can imagine how absolutely gobsmacked I was when I read my program after the performance and learned that Albarella was not only a Wickersham but also Mr. Mayor! Mr. Mayor is not cool, not studly, and not outrageous. Somehow, Albarella was able to create an entirely new and wildly different personality with Mr. Mayor....if we were to get to know the character more, we might see a slightly OCD guy. Albarella's performance was so character compartmentalized that I had no idea he played both as he managed to walk, move, and sound like an entirely different person.  Albarella is simply sensational!
Costumes:
The best word to describe the costumes designed by Kenneth Shaw and created by Barbara Priore is "fun!" Cotton candy colored wigs, lots of boas and feathers, neon lights (yes, lights!) and an appropriately sparkly ensemble for Mayzie La Bird helped to bring the characters to life. Gertrude's costume has some built-in secrets to aid in a couple of the performance's special effects. But if you want to know what the secrets are, my lips are sealed....You'll have to stay after the show for the Talk Back session!
Speaking of Gertrude's costume…each time she was on stage, I couldn't help think that if Cyndi Lauper and Katy Perry had a child it would be Gertrude!  Which actually says volumes about the personality of these costumes, as Gertrude is the unassuming character in the show! The one costume that left me flat was Horton's. I'm sure it wasn't, and he IS an elephant after all, but it frankly seemed a bit thrown together at the last minute.
The Staging:
The scenery and props were perfectly simple. This allowed the family-filled audience quickly to become drawn into the story. Of course, there was plenty of color, but not so much that anyone's attention was distracted from the amazing stuff going on with the cast. As with any TOY production, sound and lighting also played an important part. Chester Popiolkowski and Todd Proffitt, the Sound and Lighting Designers respectively, do a great job inserting these often unacknowledged elements into the show. It's amazing how much would be lost from the overall effects if these two things were absent! So the next time you're at the theatre, make sure you turn around and look up at the control booth in the back and throw the folks up there a big, huge wave.  I know from experience that if they see you, they'll be sure to wave back!
The Last Word:
Director and Choreographer, Michael Walline, pulled out all the stops in this performance!  I was especially delighted by the choreography which was so character specific. In short: Hurry up and get your tickets, as October 11-12, 2014 is the last weekend that Seussical will be on stage! Keep in mind that the show runs about 1 hour and 20 minutes, with no intermission. Make sure you visit the restrooms before the lights go down.
---
203 Allen Street
Buffalo 14201
716-884-4400
www.TheatreofYouth.org
---
© 2014, KidsOutAndAbout.com
Helena Robin is President and CEO of the Robin family. She coordinates and executes all family operations including (but not limited to) communications, transportation, management, catering, maintenance, troubleshooting, and cultural development. Her Executive Team is composed of a Husband/Creator of Chaos and three unpaid interns.