Address:
Canandaigua
,
NY
,
14424
42° 52' 46.2216" N, 77° 15' 50.9832" W
Business/organization type:
What our organization offers:
Seasons in which we offer activities (select "All seasons" for all):
The water park of the Finger Lakes at the north end of Canandaigua Lake. Family-friendly fun! Season is last weekend in June through Labor Day.
$3-Off Coupon for Roseland Water Park
Make sure you click on the form image to the right... it will bring you to a page on the Roseland web site where you can complete a form to have a "$3-off" coupon mailed to you. That's $3 off on your next admission to Roseland Waterpark.
KidsOutAndAbout.com reviewed Roseland!
Next, check out the detailed KOA review of Roseland Water Park here. See photos and find out what to expect! Roseland Waterpark celebrates its 10th anniversary this summer. In honor of this milestone, they will host over 80 activities and special events throughout the summer at no additional charge. Join them for a splashing good time. Moms can relax and catch up on a good book while kids enjoy riding a variety of slides, the Wave Pool and the Adventure River. Toddlers love the Finger Lakes Dental Splash Factory.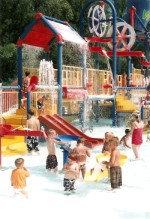 Celebrating a summer birthday?
There is no better place than Roseland Waterpark for birthday party fun. They have a variety of packages that include food and a gift for the birthday VIP.
Reunions
Is it your turn to host this year's family reunion? Roseland Waterpark is the perfect place. Any group over 20 people qualifies for special discounted rates on daily admission tickets. Their private Picnic Grove is available for groups only. Roseland Waterpark is known for being fun, clean and safe for kids of all ages. For more information, go to www.roselandwaterpark.com
Organization learning resources