Roasted Garlic Butternut Squash Soup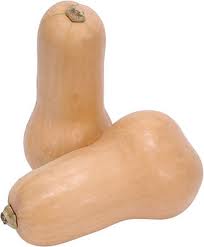 A head of garlic
A butternut squash
A small handful of fresh basil
ground pepper to taste
nutmeg to taste
salt to taste
heavy cream to finish

Split a butternut squash in half, scoop out the seeds, and put the two halves in a roasting pan "face up" so you can see the inside. Put a pat of butter inside the "bowl" part of each side of the squash. I also slather some butter over the top "smooth" half of the squash, and score it with a knife so that the butter sinks in.

Roast in a 400-degree oven for about an hour, or until the thick part of the squash is easy to slip a butter knife into.

At the same time, take a whole head of garlic and slice off the top part so that you can see a tiny bit of the inside of most of the cloves. Drizzle with olive oil, put in a small pan, and roast it in the oven along with the squash. It should only take about half an hour to roast, though. Then remove the garlic and peel it when it is cool. Or roast the garlic however you personally like to roast garlic, I don't care.

When the squash is done, scoop out the insides and place them in a food processor along with the garlic. Put in about 1/4 cup of olive oil, and a can of chicken broth. Start the food processor going. Feed in the fresh basil and keep processing until that's thoroughly chopped. Grind in some salt, pepper, and nutmeg to taste. A little bit of nutmeg goes a long way.

Then transfer to a pot, and simmer for a while. (Yes, a while. It's not as though anything really needs to cook, but the basil needs to be simmering to get the flavor out.) Depending on the size of the squash, you may want to add in up to another can of chicken broth to get the consistency of soup you want, and to increase the volume because everyone will want some and that way you might possibly get leftovers out of the deal. You might keep adding nutmeg or pepper, it depends on your taste. The thing is, keep tasting, because this is delicious, and there's no sense in your family getting to eat most of it. You're doing all the work.

When you feel like it's done, ladle the soup into bowls. And then, put a splash of heavy cream in the center and swirl it around. You can swirl it into a pattern like they do in fancy restaurants if you want your family to think you're hot stuff, or you can just blend it in like we unpretentious people do. Also, you could use a spoonful of sour cream instead of heavy cream if that floats your boat, but I've tried that and I think plain old heavy cream is best. If you're trying to be calorie-conscious you could go with milk, probably, but I'm not calorie-conscious enough to try it. Who needs to be calorie-conscious when the rest of this recipe is so darned good for you, anyway.

Note: This soup is so healthful that you should probably offset it with the best accompaniment in the world: A Wegmans french baguette and Irish butter. Cut a slice of the bread, smear it with butter, dip it in the soup, totally awesome. This is a good way to taste the soup when it's simmering in the pot. You have to keep making sure it's okay, after all.

Another note: If you can get cheap butternut squash in the fall, load up and they keep for a while. And, you can always roast and freeze...it defrosts just fine for using in the soup.

Yet one more note: If you like garlic, roast up to two heads of garlic and put them in instead of just one. As long as your spouse is also consuming this meal, it shouldn't be a big deal. But you'll be aware of garlic for the next day.
---
© 2012, Debra Ross