Review of Arigato Japanese Steak House, Rochester, NY
by June Santini
The little boy seated at the communal table is jumping up and down excitedly in his seat. "Are you going to make the volcano?" he asks? The chef, part comedian, part showman, tells him it is coming right up.
While it is true that children need to learn how to sit quietly in restaurants, learn manners, and not disrupt other diners, it is infinitely more fun to take them someplace where they can be themselves and have fun. Arigato Steak House and Sushi Bar, on West Henrietta Rd in Henrietta, is just such a place.
The Japanese Steak House Experience
Arigato is a Japanese steak house and sushi bar where interacting with your chef and the other diners at your table is all part of the fun. Guests are seated around a large grill, and each table seats ten people; if your party is smaller than that you will likely dine with other patrons. The chef breaks the ice by flicking tiny rice balls in each diner's direction for them to catch in their mouths while the rest of the table cheers them on.
If you have a sense of humor, there is nothing not to like about eating at a hibachi restaurant. The food is not generally Michelin-star worthy, but you do not go there for a mind-blowing culinary experience; you go there for a fun evening with some decent, tasty food. If Japanese food scares you because of its exotic nature, don't despair, this food is not terribly exotic; in fact, it is downright mainstream. Every dinner starts with a clear onion broth. It is mild and light, and the onion floating in it tasted like it came from a can of onion rings of the type used in Thanksgiving green bean casseroles. Salads and appetizers follow. My daughter and I shared a tempura shrimp roll which was really good; she also had a piece of tuna sushi which was nice and fresh and melted in her mouth. (So she said!)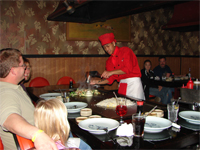 After the starters, the chef rolls out a big cart containing all of the ingredients he will need to make each diner's individual entrée as well as a pile of fried rice and vegetables which he doles out in individual portions. Now, fried rice is Chinese, strictly speaking, and even then, the versions we Americans are used to eating are not very authentically Chinese. The Arigato Steak House version is along those lines: moist, with a hint of soy sauce, and suited to unadventurous American palates. In other words, your kids will actually eat it, especially after having attempted to catch the rice balls in their mouths!
The chef entertains us with some knife acrobatics and the aforementioned flaming onion volcano; the kids at the table squeal with delight and no one looks askance at them. It is expected that everyone will laugh at the bad jokes of the chef and talk in unhushed tones.
Children eat up the show even as they eat their vegetables, which have been sliced and diced and sautéed before their eyes. Entrees appear on the grill next: chicken teriyaki, shrimp, and steak for the most part. They are tasty and well prepared and not at all anything a typical kid would refuse. Adults can even eat lobster, scallops, or salmon. My steak was nicely prepared to my liking; my daughter's salmon was a little over cooked and dry, though.
Birthdays
Birthdays seem to be frequently celebrated at Arigato and the staff will make a show out of that as well. The server dresses the birthday celebrant in a sumo hat and an oriental cape. The staff members come out ringing a gong; they sing and take a keepsake photo, and present the celebrant with a beautiful arrangement of fresh fruit.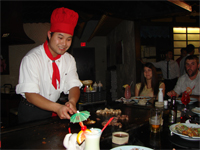 Summary
Arigato Japanese Steak House is a great place to take your kids. After all, you want them to learn to eat something other than chicken nuggets when they go out to eat, don't you? Take them to eat here and you can walk away smugly smiling to yourself that they had a healthful meal and didn't even complain that you made them eat their vegetables.
Prices
Prices: Adult entrée prices range from $10.95 to $25.95. Children's menu includes choice of chicken, steak, or shrimp from $6.95 to $7.95. Full bar.
Info
Monday-Thursday: 4-9:30
Friday, Saturday: 4-10:30
Sunday: 3-9
Arigato Steak House and Sushi Bar
2720 West Henrietta Rd.
Rochester, NY 14623
Phone: 585-292-1111
**********************
© 2010, June Santini