Make a Difference Day 2012: Saturday, October 27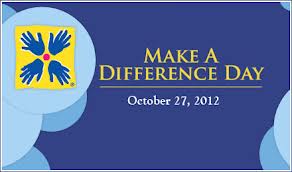 More than 20 years ago, USA Weekend magazine dedicated the fourth Saturday in October as Make a Difference Day. Once the Points of Light Foundation partnered with the magazine, this national day of volunteering has become the largest day of community service in the country!
Each year, more than 30 million people come together to create positive change within their communities by doing projects large and small.  The scope doesn't matter – the important part is that Make a Difference Day reminds us that it's up to us to keep our parks clean, our public spaces in good repair, our landmarks dignified, our Military thanked, our schools shining, our animals safe, our citizens warm and fed – the list is endless. Basically, to paraphrase Ghandi, Make a Difference Day inspires us to "be the change you want to see in your community!" 
It's also a special way to spend time with the members of your family – old and young! 
We have compiled a list of upcoming Family Volunteering Opportunities and also, a list of Ongoing Opportunities throughout the area.  Make a Difference Day only rolls around once each year, but you can volunteer with your family whenever it's possible.  Family Volunteering is an important way to remind our kids that stuff doesn't get done by fairies and that some of the places we love – parks, rec centers, theaters, museums, schools, libraries – rely on volunteers to keep programs running and facilities properly maintained.
This weekend's Family Volunteering Opportunities in the Buffalo Area:
Saturday, October 27: Buffalo Olmstead Parks Conservancy Community Tree Planting and Tool Drive in Delaware Park.
Saturday, October 27: Honoring Western NY Veterans at Concordia Cemetery with WGRZ
Saturday, October 27: Plant 100 Trees in the West Side of Buffalo with the Belle Center
Sunday, October 28: Take Back our Park at the Charles E. Burchfield Nature and Art Center
And then...

Saturday, November 3: West Seneca Re-Tree
Ongoing Family Volunteering 0pportunities:
Explore & More Children's Museum:  Explore & More Children's Museum welcomes volunteers — children ages 12 years and up, as well as adults.  We can use help with activities, and sometimes with preparation of materials.  Contacteducation@exploreandmore.org or call 716-655-5131 ext.14 for a list of specific opportunities.
Buffalo and Erie County Botanical Gardens: The Botanical Gardens has a variety of volunteer opportunities throughout the year.  Contact Nate Drag at 716-827-1584 or use one of the electronic contact forms on the website.
Beaver Meadow Audubon Center: Our good friend Loren Smith, the Director of the Beaver Meadow Audubon Center, is very enthusiastic about family volunteerism.  He wrote to tell me that Kids and Families have many opportunities at Beaver Meadow!  They can help maintain trails, 'zap' invasive species, work around the center, or get involved in citizen science.
A Million Thanks:  I learned about this organization from a woman named Kimberly Ecklund.  Instead of gifts she requested that her friends and family send letters (or cards, pictures, or poems!) to U.S. Military men and women, present and past through A Million Thanks.  The response grew and grew until not only Kimberly's friends and family participated, but also school kids, kids from the Boys and Girls Club and several after school programs as well! Happy Birthday Kimberly – you deserve it!
Buffalo Museum of Science and Tifft Nature Preserve: Giving the gift of time can be one of the most rewarding experiences in life. Volunteering has a positive effect on you and your community. Whether you want a long or short-term commitment, there are volunteer opportunities at the Museum for everyone.  If you are 16 years of age or older and would like more information on current weekday or weekend volunteer opportunities available at the Buffalo Museum of Science/Tifft Nature Preserve please call Jodi at 716.896.5200 x361 or send an email to jprotas@sciencebuff.org.
Herschell Carrousel Factory Museum:  Our Youth Volunteer Program encourages youngsters ages 12 to 18 to experience the positive aspects of volunteering.
Aquarium of Niagara: If you are willing to perform the routine functions, which are a vital part of caring for living animals, and are 16 years of age or older, we welcome your interest. Our volunteers feel the satisfaction of knowing that they play an important role in the workings of our facility.
Reinstein Woods:  There are a variety of volunteer opportunities at Reinstein Woods which would be fun for your family including Nature Photographers, Special Events, Outreach, Trail Stewards, Assistant Naturalist and more.  Please note that all Tour Guides must be over 18.
The Riviera Theatre: Be an Usher, Ticket Taker, Concessions Worker, Soft Confections Worker, Box Office Staff, Clerical Assistant, Cleaner, Maintenance Person, Fundraiser, Marketing & Publicity Assistant, Projectionist, or something else!  Volunteers of all ages (under 16 with parent/grandparent) are welcome at the Riviera Theatre.  Bring your family and join our family!  All the Generations work together to save the Riviera and keep it going.