KidsOutAndAbout Reviews the Sportzone at the Dome in Tonawanda
SportZone is a category-defying place which is great fun for everyone in your family.  Really… everyone!  Whether you're serious about golf, football, hockey, baseball or soccer (at any development level) or just like to hit Zombies with dodgeballs – SportZone has an activity that you'll love!
By now, some of you (especially if you live in the Northtowns) might have heard about the newest attraction to make its home in The Dome in Tonawanda's Brighton Park.  Much of the buzz is surrounding their golf niche – it's not a predictable driving range, but rather an indoor digital golf simulator where die-hard golfers (and the rest of us) can play 18 holes at digital versions of hundreds of real live golf courses around the world.  I'm not a golfer, but when serious players bring in their bags and smack the ball with the full power of their swings and then discuss the analytics of their shot that appear on the screen, I have to assume that it's a bona-fide golfing experience. But SportZone is much more than just digital golf for serious golfers!
Here's How it Works:   The facility is divided into 7 individual zones – sort of like a bowling alley, except the zones are square shaped and more definitely divided.  Each Zone has an enormous screen at the far end (which is made of a cool trampoline-like material and backed with a layer of sports mesh to absorb the shock) – I'm talking floor to ceiling and just as wide.  The zones are equipped with a computer station which players use to control the different games.  Each game has several different options to select – player levels, settings, number of players, and in some cases, characters.  The part I was most impressed with is the fact that you use real sports equipment!  Golf balls, street-hockey pucks, hockey sticks and golf clubs, baseballs, soccer balls, playground balls and footballs are all used.  The engineering of the screen prevents most bounce-backs and, with the exception of  Zombie Dodgeball, the activities require taking turns.
The Activities:  I've already spoken a bit about the golf, but rest assured, you don't have to
be working towards the Masters to enjoy a round of par-3 at SportZone!  My kids and I had a great time laughing at ourselves and cheering each other on during our golf experience.  But, for those who are curious about taking up golf and want to try it out a bit more privately before you hit the public eye – it's perfect.  We also spent a good amount of time kicking soccer balls at various goalies – both human and alien, shooting street-hockey pucks in contests of speed and accuracy against each other, took field goal kicks in amazing places (like the deck of an aircraft carrier!) and learned than no one in the family has a future as a major league (or any league, for that matter) pitcher.  My 6 year old always selected the carnival games when it was her turn to choose and we had a blast throwing baseballs at milk bottles and hitting targets to dunk clowns.  It's safe to say, though, that our personal favorite activity was Zombie Dodgeball!  And yes, it's just what it sounds like.  You are in a show down with approaching Zombies and thankfully, it only requires a whack from a dodgeball to make them explode (but not in a gross, graphic way).  But be warned: eventually the Zombies break through the barricade and get you.  This is one of the most fun parts of the game and my kids were literally screaming with laughter as they ran away from the screen!
What else makes SportZone Awesome?
*      Each zone has, for lack of a better term, its own breakfast bar.  When it's not your turn, you can hang out and enjoy drinks or snacks from The Grill At the Dome.  The best part is that you don't even need to get up and walk over to the Grill!  Wait staff walk around taking orders!!
*      You pay to rent the zone rather than per person or per activity.
*      It's great for people who want to develop specific sports skills and for people just looking to have fun.
*      I saw many dads rent one zone for themselves and a neighboring one for their kids and their friends.
*      Kids get their digital fix but also work up a sweat and get their hearts racing.
*      SportZone has the perfect birthday party set up: a separate party room attached to a zone which can be closed off from the rest of the facility.
*      Your family can get a great dose of physical activity in spite of the weather! Too hot? Too cold? Raining? Snowing?  Who cares!!!
*      The staff is super friendly, wicked funny and always ready to help.
*      You make the rules, especially for your youngest ones! Most of you want to golf, but that's not realistic for your 3 year old.  Let her throw the golf ball instead!
*      You need to get a little work done but your kids need to burn off some energy?  No problem! Supervise from your "breakfast bar" and take advantage of the free wireless access.
Bottom Line: All ages in my family had a great time at SportZone and my youngest one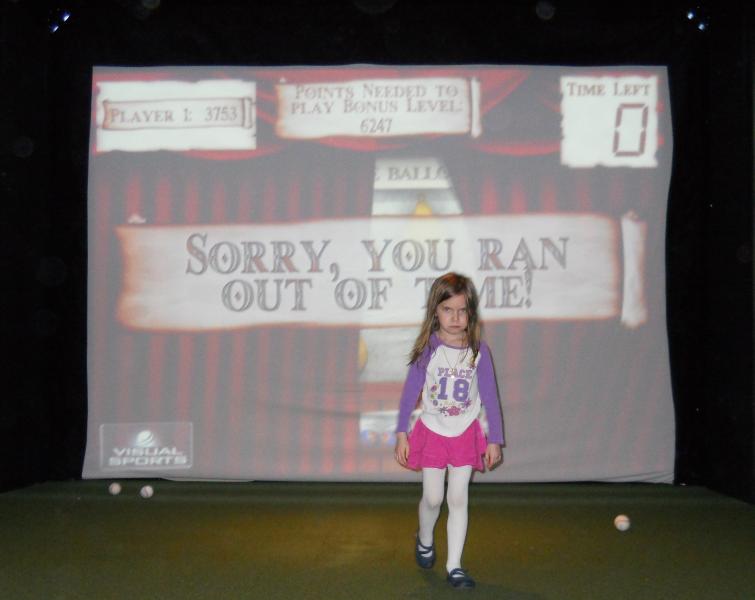 cried when it was time to leave – her version of a 5 Star Review.  You should bring your family to SportZone if you want to have active, laugh-out-loud fun or if your kids are working hard to improve their skills!  Everyone in your family can have fun at SportZone! Although you don't have to reserve a zone in advance, I'd recommend it.  This is especially true if you want to use a zone for yourself and have a separate (yet very close) one for your kids.
---
 The Sportzone at the Dome in Tonawanda
175 Brompton Road Brighton Park
Tonawanda, NY, 14150

United States
---
©2013, KidsOutAndAbout.com
---
Helena Robin ...is President and CEO of the Robin family. She coordinates and executes all family operations including (but not limited to) communications, transportation, management, catering, maintenance, troubleshooting, and cultural development. Her Executive Team is composed of a Husband/Creator of Chaos and three unpaid interns.