KidsOutAndAbout Reviews The Musical Adventures of Flat Stanley at Theatre of Youth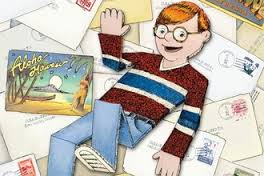 by Helena Robin
The Musical Adventures of Flat Stanley is based on the classic book by author Jeff Brown.
If you currently have, or have had in the last 10 years or so, a child in elementary school, then you know who Flat Stanley is. You might even have sent Stanley to visit friends and family in other parts of the country. No matter what your experience level with Flat Stanley, you will delight in Theatre of Youth's interpretation of this beloved little guy and his travels around the world.
Summary
The adventure begins as the mail carrier, played by Kerry-Kate Abel, introduces us to the Lambchop family. Kind, dependable and vaguely kitchy, Mom is convincingly played by Beth Donohue. Robert Insana, who plays Dad, is a bit clueless, very loving and always supportive. Insana has been in several TOY productions so don't be surprised if he looks familiar to you. The two Lambchop boys, Stanley and Arthur, are wonderfully played by Christopher Quinn and Michael Zito.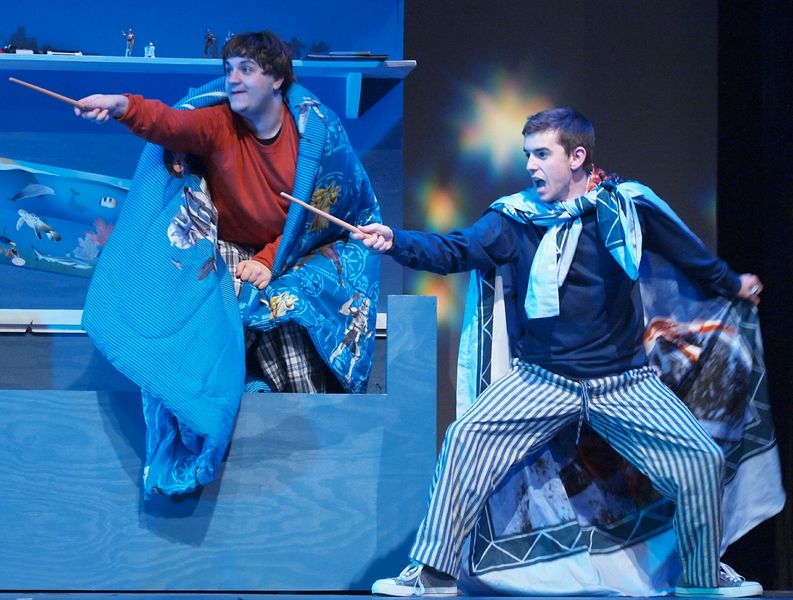 Stay with me for a moment. Many years ago, Steve left Blue's Clues to go to college and his cousin, Joe, stepped in to be Blue's companion.  There's nothing wrong with Joe – he sings better than Steve, he's cute and friendly – and yet most of us still prefer Steve to Joe. Why is that?? There's just something so easy and simple about Steve that makes him a natural for the part. Christopher Quinn possesses that same quality which allows us to believe that he really is the child he's portraying.  His face is as expressive as any kids, his singing is sweet and clear and, best of all, he doesn't over-act.
One of TOY's strengths is its stable of talented, versatile actors, and the cast of Flat Stanley really shines in this production.
Kerry-Kate Abel, the show's steadfast narrator/Mail Carrier, is also called upon to play a preposterous, phony-baloney Hollywood socialite, a sort of flower-child beach girl, and (my personal favorite) the Mona Lisa.  Don't underestimate the difficulty of playing one of the most recognizable women in history. Especially when the woman is actually the subject of a painting and speaks with an Italian accent!
Robert Insana, when he wasn't on stage as Dad, also took a turn as Stanley's best friend, a straw hat wearing beach bum, and a super cute French museum guard (who reminded me of a young Maurice Chevalier) complete with a snappy blazer and straw boater.
A master at the kitchy-Mom role, Beth Donohue also shines as a shallow, platinum blonde, giant sun glasses wearing Hollywood glamour girl, a groovy, laid back, surfer girl and a French art thief. The different characters she plays are not only physically different. Donohue manages to skillfully portray characters of different ages and backgrounds.
Unfortunately for this ensemble group of very versatile actors, there was one person who positively sparkled in each role he played.  He is a chameleon, a master of disguises – he could have been a spy in another life and his name is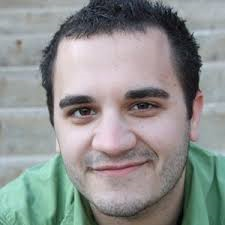 Michael Zito. He sweetly plays Stanley's younger brother, Arthur, with a familiar touch of dorky little boy devoted (mostly) to his older brother.  He is a wildly flamboyant and absurd Hollywood casting agent, the quack doctor who can't get Stanley's name correct and eventually pronounces him healthy, but flat, a hilarious painting of Napoleon Bonaparte (my absolute favorite) and a dopey surfer dude.  He brings a complete character to life with different mannerisms, voices, looks and energy each time he's on stage and he often has to switch amongst them very, very quickly.  His characters made the kids in the audience (and me) howl with laughter and they had no idea that he was the one who was playing all those characters.  I'll watch any production that Michael Zito is in!
Staging, Scenery and Costumes
As is typical of most TOY productions, the staging and costumes are simple and perfect. The kids in the audience loved the backdrop for the Louvre with its fanciful shape and cut outs for the talking Mona Lisa and Napoleon Bonaparte and the tinsel-embellished beach setting.  The costumes were often layered and designed to get in and out of quickly.  While they didn't look complicated, they were beautifully engineered to enable the actors to seamlessly change characters at the drop of a hat.
I'll bet you're wondering how they manage to make Stanley flat.  Well, I won't spill the beans completely, but I will tell you that it involves black clothing and foam.  And, no, he didn't have a stunt double when the bulletin board squashed him.  It's just more clever construction from the crafty, clever folks at Theatre of Youth!
Bottom Line
Your kids know the story, you know the story and it's the perfect opportunity to show your family how a book can spring to life when it's presented on stage.  The cast is so strong and the songs are truly lovely which makes it almost a guarantee that your kids will fall in love with the theatre and the magic it creates!
Practical Information
The Magical Adventures of Flat Stanley runs a little over an hour and there is no admission so you might want to plan for a trip to the restroom before the show.  It's probably best for kids aged 4 and over, but you know your kids best!
Warning
B is for Books has a great selection of book for sale in the lobby and Sweet Jenny's/Oh Pour L'amour Du Chocolat has delicious candy treats available before and after the performance! You may want to establish the purchasing ground rules before getting to the theatre. Please consider indulging your family's sweet tooth, though, as 15% of the sales go back to TOY!
I can't begin to beg you enough to stay for the post-show behind the scenes Q and A Talk Back with members of the cast and Theatre of Youth's Artistic Director, Meg Quinn.  This is a great opportunity for families to find out about the preparation, process and tricks developed to pull off a staged show.  The normally anonymous sound, lighting, and tech crews are pointed out and their jobs are explained.  This is a feature of Theatre of Youth's productions that I applaud and admire. So many times when we, or our children, think of the theatre we only think about the actors or directors. Perhaps we remember musicians occasionally as well.  This demonstration allows the kids who love shows, but don't love the idea of being an actor, to see all the various professions integral to creating the magic of theatre!  Genius!!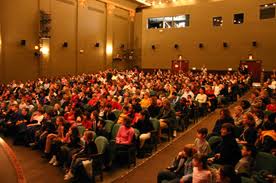 PS: If you are a teacher or school administrator, you should definitely try to incorporate a fieldtrip to the Theatre of Youth next season. I was super-lucky to be able to see the performance with kids from a few different elementary schools. The amazement and joy of the students from the moment they walked into the theatre ("Oh my GOSH!  It's just like a castle!!") to well after they climbed back onto their buses ("It was so awesome when Stanley's bulletin board fell on top of him and he got squashed!") was truly spectacular. I felt privileged to be able to witness hundreds of kids thrilling in an experience they will certainly remember fondly the rest of their lives! Please, please, please give your students the gift of live theatre next year – you will never regret it!
Theatre of Youth
203 Allen Street
Buffalo, NY, 14201
Phone:716-884-4400
The Musical Adventures of Flat Stanley is on stage at the Theatre of Youth from May 10 - June 2, 2013.
---
© 2013, KidsOutAndAbout.com
---
Helena Robin ...is President and CEO of the Robin family. She coordinates and executes all family operations including (but not limited to) communications, transportation, management, catering, maintenance, troubleshooting, and cultural development. Her Executive Team comprises a Husband/Creator of Chaos and three unpaid interns.