KidsOutAndAbout Reviews James and the Giant Peach at Theatre of Youth in Buffalo
The 2012-2013 season continues at Theatre of Youth, who brings to life the story of a boy, his peach, evil relatives, and a few interesting insects.
Each performance at Theatre of Youth nudges the bar a bit higher for the next show in line. With James and the Giant Peach, however, TOY has taken the bar, put it into a hot air balloon (á la Jules Verne) and launched it!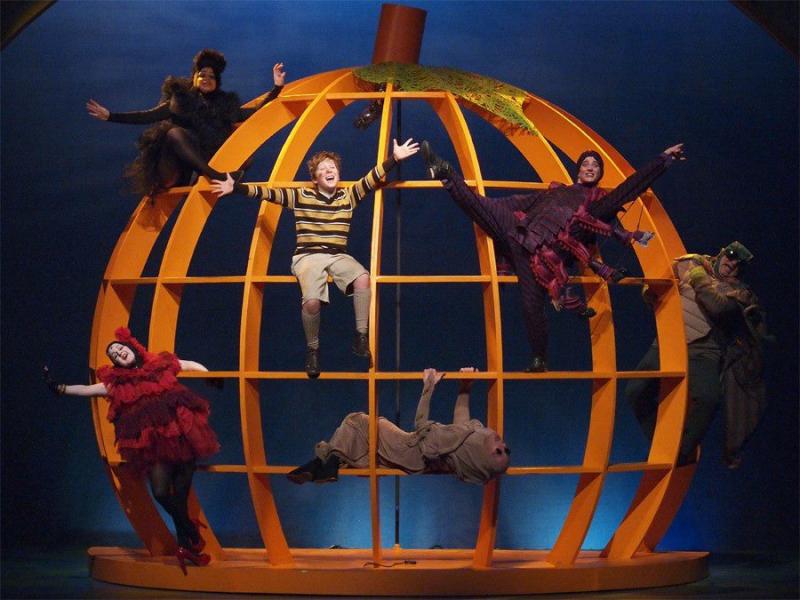 Summary
James and the Giant Peach is based on the classic book by author Raold Dahl.  This story is pure fantasy escapism. Young James is orphaned and sent to live with his horrible aunts until a giant peach comes into his life and (literally) whisks him away to a brand new world.  Accompanied by a band of larger-than-life insects with larger-than-life personalities, James develops self-confidence, follows his heart, and finally finds happiness.

The Performance

The first character we meet is the aptly named "Storyteller" played brilliantly by Kurt Guba. He introduces the story to the audience and stays with us throughout the show as a sort of narrative guide.
The Storyteller's costumes and Guba's over-the-top, melodramatic, accented performance immediately drew us into the alternate fantasy-based reality of the story. My kids loved his exaggerated physical mannerisms and unhesitatingly followed him on James' amazing adventure. We all adored Guba so thoroughly that one magical moment at the very end of the play drew loud gasps and spontaneous applause from each and every one of us.
Guba is also lucky to have a highly interactive role with the amazingly clever props designed by Kenneth Shaw.  Guba "plays" the piano (or at least pretends to) for mood music, cranks the wheel attached to the proscenium which seems to raise and lower the backdrops,  and also gets to wear a large model cruise ship around his neck while simultaneously playing its Scottish-accented captain!
The most charming moment in the show comes close to the end: Guba brings out a wooden peach crate and sits down on the stage with the large model of the Empire State Building and, using toys he takes out of the crate, re-enacts the peach landing on the Empire State Building, lowering down to the street and then the celebratory parade with toy vehicles which had been cleverly linked together with previously unseen fishing line. Every child in my audience zeroed in on this part of the performance and was rapt. This seemingly low-key element of the show is what makes Theatre of Youth Brilliant: Rather than using high-tech, flashy bells and whistles to grab the attention of the kids, they quietly and thoroughly connect with their audience, speaking the language of childhood: imaginative play.
 
Other Characters

While Guba's performance literally sets the stage for the rest of the show, it is clinched by the Dickensian awfulness of James' aunts played deliciously by Linda Stein and Tilke Hill. Cackling, name calling, accented and flamboyantly costumed --we all love to hate them!
Stein and Hill also play "Centipede" and "Spider" respectively.  If "Fancy Nancy" had an evil twin, it would be Centipede. Stein's well-dressed and extravagantly booted Centipede is narcissistic, rude and bitingly funny – you know, the kind of personality that's entertaining, but not one that might be a real friend. In short, Stein was great.
I felt a bit bad for Hill's Spider, though. The character's quiet personality makes her a bit of a passed-over wallflower, but like James, her usefulness develops her confidence. I am impressed that Hill is able to transition from the over-the top horrible Aunt Spiker to the reserved Spider so thoroughly. My daughters didn't believe me when I told them after the show that they were played by the same person!
"Grasshopper" and "Ladybug" are insects who doesn't get a lot of focused attention, but they add something special to the group dynamic. Ladybug is often the voice of reason in the group, and Grasshopper is the person we all know whose opinion changes with the wind. Played by Marc-Jon Filippone (Grasshopper) and Arin Dandes (Ladybug), these characters could be easily overlooked with less skilled performers. What I noticed most about both of them was their voices. Sure, they also have great costumes, but their tone of voice and accents made me perk up and pay attention.
Simon Blu Randleis the lucky kid who was selected to play "James," but luck had nothing to do with why he was chosen. He does a great job with the other cast members and although his character is neither flamboyant nor extravagant, Randle brings James to life with aplomb. We also saw during the post-performance Talk Back how knowledgeable and articulate this young actor is. I look forward to seeing more of him in the future.   
I haven't mentioned the "Earthworm" yet, and that's because I don't even know where to begin. Adam Rath quite easily steals the show. I am very comfortable saying that his performance was our Audience Favorite, which is something I never thought I'd say about a humble worm.
Rath portrays the MOST pathetic, miserable, whiny, pessimistic, melodramatic and thoroughly endearing character I have seen in a while. He whines, he moans, he groans, and he complainsthe entire time. But rather than finding it annoying, the kids in the audience (and their grown-ups, too) love every single moment with him. Rath doesn't wear a fancy costume; it is as unattractive as earthworms are in real life. He relies solely on his inner British 4-year-old and abs of steel, which allow him to twist, dangle and contort his worm body upside down, sideways, diagonally and all over the stage floor.
Staging, Scenery, Costumes and Sound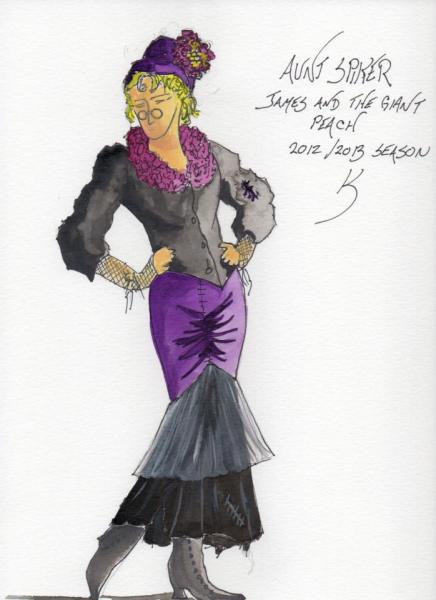 Kenneth Shaw is amazing. I could just leave it at that, but I'm not going to. His vision of a Steam-Punk depiction of "James and the Giant Peach" is a fantastic choice which informs the direction of all aspects of the production. 
The sets contain thoughtful industrial references, including cool knobs, gears, switches and wheels utilized by Storyteller to bring attention to the mechanics of the stage operations.
The costumes for the human characters (except for James, who is appropriately bedraggled) are edgy Victorian-ish with tight pants, sprightly feathers, rouching, and leather vests. Although the insects aren't super steam-punk, they are well accessorized with funky goggles, asymmetrical hoods and black mesh. I need to make a special mention of the shoes. Every female in the audience–whether 4 years old or 65–was looking at the shoes worn by Ladybug and Aunt Spiker. They are fantastic, and, as my 5-year-old noted, "You would kill yourself in those, Mommy." And she's right. 
While there has been a lot of buzz surrounding Shaw's set and costume designs, not nearly enough has been said about the marvelous music and sound effects for the show. Created by Sound Designer, Chester Popiolkowski, the musical and sound elements are like an entirely separate cast of characters. Without this dynamic and creative aspect of the performance, the show wouldn't be as unified or complete. The bubbling, splats, whirring, sproings and gull cries cause audience members of all ages to audibly react. Whether looking around for the sea gulls, laughing out loud as we hear (but don't see) the aunts getting squashed by the peach, or biting our nails as the shark e-e-evilly menaces the peach to the strains of very dramatic tango music – Popiolkowski is a master at establishing mood.
Bottom Line
Theatre of Youth has created another spot-on show!  The thoroughly unified aspects of Character Development, Staging, Music, Costumes and–of course–Talent come together brilliantly. The entire production, with its over-the-top acting, multiple accents, cool costumes, clever sets, and music reminiscent of old calliope-accompanied carrousel rides, is a Vaudevillian masterpiece and should not be missed!
Practical Information
James and the Giant Peach will be appreciated most by kids 6 and over.  I adored the many accents the actors were able to pull off, but my 5-year-old often had trouble understanding what they were saying. She didn't really care, though, since she was mesmerized by the flailing arms, shoes, feathers and wild mannerisms instead.
The run time is about an hour and twenty minutes, and there is no intermission.  The time passed by quickly and, aside from a few kids who needed to dash out for a quick bathroom break, I didn't notice any bored fidgeting amongst the younger audience members.

Warning: B is for Books has a great selection of book for sale in the lobby and Sweet Jenny's/Oh Pour L'amour Du Chocolat has delicious candy treats available (including chocolate covered and decorated pretzels, ladybug and spider decorated chocolate covered oreos, and gummy worms)!  You may want to establish the purchasing ground rules before getting to the theatre. Please consider indulging your family's sweet tooth, though, as 15% of the sales go back to TOY!
I can't begin to beg you enough to stay for the post-show behind the scenes question-and-answer Talk Backwith members of the cast and Theatre of Youth's Artistic Director, Meg Quinn. This is a great opportunity for families to find out about the preparation, process and tricks developed to pull off a staged show.  The normally anonymous sound, lighting, and tech crews are pointed out and their jobs are explained. This is a feature of Theatre of Youth's productions that I applaud and admire. So many times when we, or our children, think of the theatre we only think about the actors or directors. Perhaps we remember musicians occasionally as well.This demonstration allows the kids who love shows, but don't love the idea of being an actor, to see all the various professions integral to creating the magic of theatre! Genius!
---
James and the Giant Peach is on stage at Theatre of Youth on Saturdays and Sundays at 2pm through February 10, 2013.
Theatre of Youth
203 Allen Street
Buffalo, NY 14201
716-884-4400
© 2013, KidsOutAndAbout.com
---
Helena Robin ...is President and CEO of the Robin family. She coordinates and executes all family operations including (but not limited to) communications, transportation, management, catering, maintenance, troubleshooting, and cultural development. Her Executive Team comprises a Husband/Creator of Chaos and three unpaid interns.