KidsOutAndAbout Reviews ComedySportz Buffalo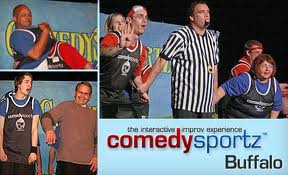 After months of trying to work it into our schedule, I was finally able to take the kids to see a show at ComedySportz Buffalo.  It's been around for almost 20 years but on my radar for less than a year.  How can this be?  I'm still scratching my head, trying to figure it out. 
If you've read any of my other reviews, you will expect this one to be pretty detailed and perhaps a bit analytical.  But, hold on to your hats, this review is short and sweet!
If you are familiar with the old Drew Carey show, "Whose Line is it Anyway?", you'll be able to visualize what your experience will be like.  Except that ComedySportz Buffalo is funnier, the rules make more sense and there is a tremendous amount of no-pressure audience participation.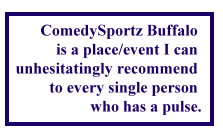 In A Nutshell:
There are two teams composed of three comedians each, plus an official referee (with a whistle and snappy striped shirt).  One team wears red and the other blue so that they are clearly identifiable.
The two teams compete in a variety of comedic events chosen at random. Sometimes a team captain chooses the event and at other times the Ref. chooses.  *The night we visited, we watched the Red Hot Wingz take on the Blue Cheesez, but since there are a few different teams, you won't be seeing the same exact competitors week after week.
In some cases, events have a clear winner and loser based on accumulated points or last-player-standing situations. For other events, the audience chooses the winner by the ultra-sophisticated voting system of double colored glowstick necklaces. One end is red and the other is blue.  Guided by the referee, the audience counts down from "3," the house lights go dark and you hold up your glowstick with the color of the team you think won on top. If you feel especially emphatic, feel free to lobby for your team by repeatedly yelling out their color or try to wrestle the glowstick out of your traitorous kid's hand and flip it over!
Primarily, the audience participates by shouting out verbal suggestions.  For example:
During one event, the teams had to play a crazy timed version of charades using words from the audience. One player from each team was the "guesser" and the others were the "actors." One guesser had to figure out "Skydiving from a Boat onto a Hardwood Floor using a Christopher Walken parachute." Another guesser had to figure out "Ice skating through Oxyclean with an audience of Cupcakes." No words were allowed and they only had one minute to guess each thing! Oh, and there were about five of these crazy activities they had to figure out!
Don't worry about the audience participation facet! Nobody will drag you up onto the stage unless you volunteer.
 *It's not rocket surgery ;) - everybody in my family had a word chosen during the evening, even the 5-year-old!  They were: cupcakes, hardwood floor, monkey, and The Vampire's Mustache.
For the Record
ComedySportz Buffalo

is interactive, low-tech, quick-witted, all ages, fairly priced, good--no, wait, GREAT--clean fun.  

There are snacks and souvenirs as well!

Shows last about 2 hours and the time flies by.  

ComedySportz Buffalo is a place/event I can unhesitatingly recommend to every single person who has a pulse. All three of my kids (ages 5 - 13) want to bring friends to a show and have their birthday parties at a show.  My teenager is also counting down the days until he turns 15 so that he can take the Improv classes taught there as well.
Do yourself and your families a favor and Go to ComedySportz Buffalo, and Go Often!
---
ComedySportz Buffalo performs every Friday and Saturday and occasionally has special holiday shows.
---
© 2012, KidsOutAndAbout.com
---
Helena Robin ...is President and CEO of the Robin family. She coordinates and executes all family operations including (but not limited to) communications, transportation, management, catering, maintenance, troubleshooting, and cultural development. Her Executive Team comprises a Husband/Creator of Chaos and three unpaid interns.