KidsOutAndAbout Reviews Bounce Magic in Amherst
by Helena Robin
What does a parent do when faced with a school vacation in winter without a holiday involving presents and three kids who are sick of the sight of each other?  She takes them to the newest incarnation of Bounce Magic (in Amherst) of course!
Before I even begin the review, though, I have to give tons of credit to the owners, Barb Wood her family. You see, Bounce Magic had just opened its doors a mere three weeks before the bedlam of Winter Break broke loose on them. I half expected it to be still noticeably in transition and a bit loosy-goosey, but they managed to entertain us (and all the other families there) for more than half the day.  This is no easy feat, since I have kids who range in ages from 5 up to 14!
Highlights of Bounce Magic
1. The facility is scrupulously clean.  I'm not even kidding when I say you could eat off the floor.  Even the carpeted areas were spotless.  I was also happy to see trash cans located in many different areas of the space and most of them had touchless hand sanitizers mounted very close by.  This made it easy to decontaminate anything the kids might have picked up while playing on the inflatables. Although I didn't use the restroom, the friend that I was with told me that they were clean (except for a dirty diaper left on the counter by a mom.  Really??).
2.  Speaking of the restrooms, I was really happy to see a Family Restroom! There were a number of Dads out with their kids while we were there and it must have been a relief for the ones who were with their daughters.  I know my husband has been forced to choose between sending a 3-year-old into the ladies room by herself or accompany her into the men's room. It was an experience that came close to nixing father-daughter fieldtrip days for good.
3.  There are plenty of activities.  In addition to the multitude of inflatables, the kids were able to explore a climbing wall, play a round of miniature golf, play arcade games and air hockey, search for gems, shoot basketballs and soccer balls into nets (if they couldn't do it from the ground, the kids just climbed up onto the inflatable structure and tossed the balls from much closer!).
4. The space is brightly lit and is designed so that many areas can be seen at once.  The large inflatables are located around the perimeter of the space so that it was fairly easy to spot my kids and their friends as they traveled from one place to another.  Since my kids are spaced out in ages I'm always a bit paranoid about keeping track of them all.
5.  You can tell a Mom was involved in the planning.  It's not that Dads would have done a bad job, it's just that since Moms are the ones who typically spend more time at play centers than the Dads, they are more aware of the inherent problems that can arise*.  There is a separate, picket-fenced in area that is just for toddlers and preschoolers (and my small kindergartener as well).  If you are not a caregiver and you are taller than the fence, you can't play on the inflatables. It's a simple and effective way to keep the littler ones safe and encourage independence. There's another area that is for kids slightly bigger and more independent where not even the caregivers are allowed to climb around on. These inflatables are on a smaller scale and probably wouldn't support more than one adult at a time.  Bigger kids are also discouraged from playing in this section.  Next up is the family area with bigger and more challenging activity-filled inflatables where parents are welcomed to play on. This is great for families with kids of varying ages and levels of independence.  And of course, there are inflatables that are really for older kids who have no interest in admitting that they actually have parents at all.
6.  There are plenty of tables and a restaurant.  Even though it was toward the end of Winter Break and the place was very busy, there were still enough tables and chairs to go around.  The restaurant has a good sized menu with a variety of options and the prices were good.  Many of the tables are situated so that you can sit down and still be able to keep track of your kids from a distance. On the day we visited, they must have been short staffed since it took a while for our food to arrive.  But, this wasn't a big deal for us because:
7.       The staff was really very good! I can't find a single critical thing to say about the employees at Bounce Magic.  Each of them were very kind, helpful and cheerful.  When they were in problem-solving mode they were polite and quick to respond.  Bounce Magic is one of those places where the experience could be ruined by disagreeable, poorly trained or lazy employees. I can honestly say that our experience was actually made better because of the awesome staff!
---
We had a really great time at Bounce Magic and when I announced that it was time to go (since I'm mean and horrible like that) my younger two kids immediately started crying.  Sure, that's not something that makes me happy, but I choose to look at it as their version of a 5 Star Review!
---
*NOTES*
You might have noticed an asterisk above.  That's because although we had a great time, it wasn't a perfect time (but what is?) and Bounce Magic can only be held responsible for a tiny part of it.
I mentioned that a Mom clearly designed the spaces to avoid the problems inherent with a multi-aged play center. This is true, but kids don't always follow the rules, and parents don't always use common sense.  My 14-year-old "rescued" two toddlers from one of the inflatables in the young kids/no parents zone.
My recommendation is that until your child is in Kindergarten or is a very independent, strong preschooler, either stay in the toddler area or accompany him into the family section.  Don't send them off on their own where you can't provide a hand if one is needed. Also, if you are the parent of an elementary/middle schooler, don't assume that you don't have to pay attention as well. My kids were reporting that some older kids would block off sections and not let the younger kids through or would climb a ladder and then purposely fall backwards landing on the kids below them.  One of the other moms I was with also had to repeatedly tell a couple of 8- or 9-year-olds that they couldn't play in the toddler area. For the record, none of this surprises me. We are talking about kids, after all!  But as parents, it's our job to make sure that our kids (and their friends if we brought them) know what the rules are and know what will happen if they don't follow them. 
*The only thing I have to snark about as far as Bounce Magic goes is that on the day we went, they could have benefitted by having more employees present.  But remember, all of the ones we met were fantastic!!
The bottom line is that Indoor Play Centers can be rough and tumble places. But we had a great time!  Yes, the kids reported some bad behavior, but I also heard about other kids who helped out the younger kids and hassled the naughty ones.  I watched kids who had small collisions help each other up, I saw apologies and I watched kids encourage each other to try new things.  I would definitely go back to Bounce Magic with my family again!
---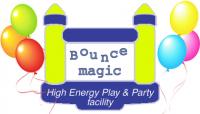 Bounce Magic - Northtowns
4090 Maple Rd.
Amherst, NY 14226
United States
---
© 2013, KidsOutAndAbout.com
Helena Robin ...is President and CEO of the Robin family. She coordinates and executes all family operations including (but not limited to) communications, transportation, management, catering, maintenance, troubleshooting, and cultural development. Her Executive Team comprises a Husband/Creator of Chaos and three unpaid interns.