Halloween Dinner- Pumpkin Stew
by June Santini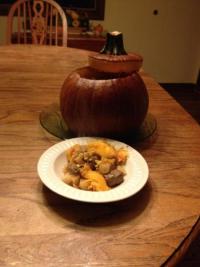 Halloween dinner made easy
My mother was ahead of her time when it came to dietary and cooking trends.  When I was a kid, dinner was usually some salad, grilled meat, and vegetables. It was low-carb way before low-carb was cool. We had some kind of carbs a couple of times a week. I don't ever remember her making any kind of casserole, pasta appeared a few times each year, and stews were almost unheard of. 
Once a year, though, my mom made Pumpkin Stew.
I don't know where she got the recipe, most likely from a friend or a woman's magazine, but my mom was (and still is) a fabulous cook and likely tossed in a few modifications of her own. She didn't shy away from the unusual or adventurous. Did your mom or grandma cook the Galloping Gourmet recipes from the PBS show in the '70s? Mine did.
We loved the stew, not only because of the fun of having it served in a whole pumpkin (!), but because it was really delicious and made Halloween even more special for us. (Remember, back in the olden times of the seventies, nobody spent a gajillion dollars on Halloween. We scronged up costumes with whatever we could find around the house and used a pillowcase to hold our candy.)
My favorite part of the stew is the peaches; they add the most delectable sweetness to the dish. Combined with the stew beef, corn, sweet potatoes, and a few other vegetables, the peaches make this dish into something really out of the ordinary. Mom would scoop out the sweet pumpkin flesh from the sides of the pumpkin along with the hot stew. We'd gobble down a bowl and head out to collect our treats.
Pumpkin Stew
Ingredients: They make a pretty picture, don't they? I forgot to show the sweet potatoes. (Whoops.) Notice also that I used canned peaches, fresh corn (because I had it), and homemade beef stock.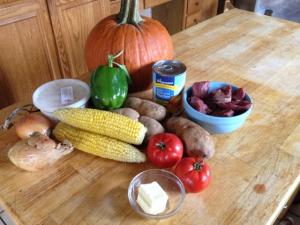 3 T vegetable oil
3 cloves garlic, minced
2 green peppers, chopped
2 onions, chopped
2 lbs beef stew meat
2 tomatoes, chopped
1 T sugar
1 1/2 tsp salt
2 pkgs frozen whole kernel corn
3 potatoes, diced
3 sweet potatoes, diced
2 Cups beef stock
8 peach halves, canned or fresh
3 T butter
1 1/2 tsp salt
1 large or 2 medium pie or cheese pumpkins
In a large dutch oven brown garlic, peppers, onions, and stew meat in oil.Add tomatoes and salt and simmer 10 mins. Add corn, potatoes, sweet potatoes, stock, peaches, and sugar and simmer for 40 minutes.
Brush inside of pumplins with butter and sprinkle with salt. Add stew, put the top on and bake 45 mins to an hours and bake until pumpkin is tender.
Note: Don't use a carving pumpkin, the flesh is too stringy to taste good; you'll just ruin the whole thing and then blame me. I'd rather you discover what a great (and delicious) Halloween tradition this is.
---
© 2013, KidsOutAndAbout.com
June Santini is Vice President of Operations of KidsOutAndAbout.com.