Explore & More Children's Museum: a KidsOutAndAbout review
by Kathleen McCormack
Efficient.
Not a typical word to describe a children's museum and yet it fits for Explore & More Children's Museum in East Aurora, NY (near Buffalo) where the space is small but well used. 
At 7000 square feet one might think there's not much to it, and yet each section of the museum is so well designed, the exhibits really pack a punch. How often have you visited a museum where some areas are outdated or unappealing? Sure, there are the highights but then there's a bunch of other stuff that most people ignore. Not at Explore & More.
The teacher in me loved the intelligent design of the museum. For example, at one table, kids could sit at any of four diner seats. Each seat represented the cuisine of a different country. The kids could build their meal with plastic foods typical to that country. Simple but effective.
In the geology area, my daughter and I actually spent quite a bit of time examining rocks. Because my three-year-old is strangely fascinated by rocks? No. Because the questions at the rock table actually made sense for actively engaging kids. Find a rock that is surprisingly lightweight. Use a magnet to discover which rocks contain metallic elements.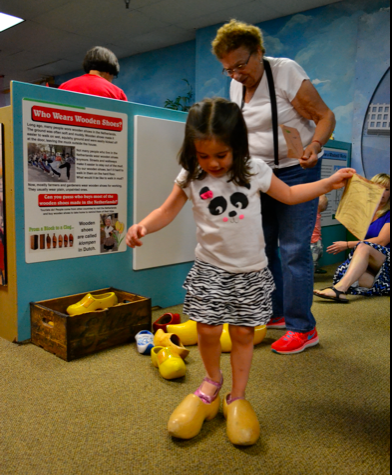 Children can travel through three different countries in the Culture Corner: Vietnam, South Africa, and the Netherlands. Again each area contained just a few activities but activities that made sense in easily digestible chunks of information. For example, in Vietnam kids can play the pentatonic scale and dig around in a rice table. In South Africa, we played House with wooden dolls, animals, and homes all representative of the typical clothing and designs of South African people. There's even a giant Mancala game board! The farm to fork concept is emphasized in the Food for Thought exhibit where kids pick their own vegetables, hop in the boat to go fishing, and sell their food at the market. The beauty is in the simplicity. It's clean, it's well organized, and its coziness doesn't allow for it to become a madhouse. You can easily watch your little one in the Baby Garden while also keeping an eye on older children in other areas.
Though it is small, Explore and More is the type of museum you can come back to time and again. Check out their Wednesday WOW program featuring different themed events and activities each week. Take in a magic show one week and a musical performance the next. At only $5 per person over the age of one, you're not breaking the bank and you're easily getting three to four hours of fun (best for children under age 10). $5 is cheap but they do free as well! Fridays in the summer are celebrated at the Canalside location with free outdoor programs! Currently the area is a bit tight for strollers and the bathrooms are located down the hall, slightly incovenient for little ones who realize they need to go now. But these flaws are minor and will be recitified when Explore & More moves into their new facility.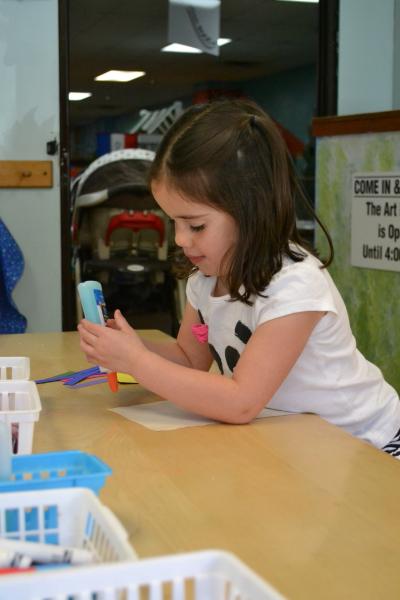 Perhaps because it is so well designed, Explore & More is preparing to grow. In the spring of 2015, they will break ground on a 40,000 square-foot facility at Canalside in downtown Buffalo. This new location and upgraded facility sounds to be equally intelligent in design The new exhibits will be a reflection of their location in Buffalo, NY. One exhibit will pay homage to the role of the Erie Canal in the growth of the city. Another will recognize the diverse immigrant population that makes up the face of Buffalo, the goal being to teach kids what it means to be a good neighbor. The grand opening will take place in 2016; is it too early to already be getting antsy for its arrival?
Bright, well maintained, effective – a trip to Explore & More combines the comfort of a friend's playroom with the intelligence of your child's classroom. No wonder they're a favorite on KidsOutAndAbout's Top 20 List of Places to Take Kids in Buffalo.
---
© 2014, KidsOutAndAbout.com
Kathleen McCormack is editor of KidsOutAndAbout.com and lives in the Rochester, NY area.
---