10 Winter Hikes to Take with the Family in the Buffalo - Niagara Region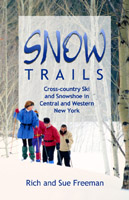 By Sue Freeman, Footprint Press
Winter Hike, Snowshoe and Cross-Country Ski Trails in Western New York
Winter is no time to stay indoors. Doing so will only result in cabin fever and kids bouncing off the walls. Instead, bundle the kids in warm clothes and head to a local trail. No matter where you live, there's sure to be a trail nearby. Go for a winter walk, or try snowshoeing or cross-country skiing. If you don't have equipment, there are plenty of places that rent them inexpensively for the day. Some are listed below.
While on your winter outing, stop for a break and examine the snow closely. Can you decipher individual snowflakes? Has a warm spell compacted the snow or a cold spell created an ice layer on top? It's a good opportunity to talk with your kids about the life cycle of snow. Look through the woods too. See how far you can see when the leaves are down. Watch for animal tracks in the snow. Maybe even start a snowball fight, then break out a thermos of hot cocoa for reconciliation.
We're fortunate. Trails are plentiful here. And finding them is made even easier thanks to Footprint Press guidebooks. Maps of the trails, directions to find the trailheads, information on length and difficulty, and everything you need to know about each trail to have a fun family adventure can be found in the various guidebooks. These books can be found in local stores or from the Footprint Press online catalog. The guidebooks are available in print and as pdf file e-books for easy download.
Erie County Forest sits at a high elevation where the snow comes early and is plentiful. It offers a broad network of loop trails so you can choose a distance that fits your family's endurance level. There's even a warming hut and heated restrooms to ensure a fun family outing.  (Snow Trails, page 35)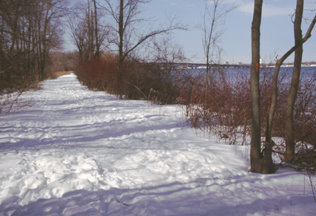 Daylight during wintertime is short, so go skiing or snowshoeing at night on the lit trails at Bryncliff Resort in Varysburg. (Snow Trails, page 62)
Sprague Brook Park offers a 3-mile groomed ski loop with a few cutoffs to shorten the loop when necessary. (Snow Trails, page 38)
4. Bare Hill, Canandaigua Lake

Hike or snowshoe to the top of Bare Hill on the west side of Canandaigua Lake for a panoramic vista of the lake below. (Take A Hike - Finger Lakes, page 71)
Ski the 24 miles of groomed trails at Art Roscoe Cross-Country Ski Area in Allegany State Park in Salamanca. (Snow Trails, page 28)

Another park offering groomed ski and snowshoe trails is Emery Park (in South Wales. In winter they block off some of the park roads and use them as part of the ski network. (Snow Trails, page 41)
7. Great Nature Centers in Buffalo, Mumford, and Naples

Rent snowshoes at Tifft Nature Preserve in Buffalo, Genesee Country Nature Center in Mumford, or Cumming Nature Center west of Canandaigua Lake and see why this sport is growing in popularity. (Snow Trails, pages 186, 88, 42, 112, 142.)
Trails for all levels of ability, covering 28 miles, await at Phillips Creek and Palmer's Pond State Forests in West Almond. (Snow Trails, page 130)
To warm up from a ski outing at Como Lake Park, go visit the casino. No gambling occurs here however. The casino is a warming hut with restrooms and a fireplace that sits between the skating rink and a sledding hill. It's a beehive of activity on a beautiful winter day. The 4 miles of trails are easy and scenic. (Snow Trails, page 44)
Ski, snowshoe or hike on a trail parallel to the mighty Niagara River at Buckhorn Island State Park on Grand Island. (Snow Trails, page 48)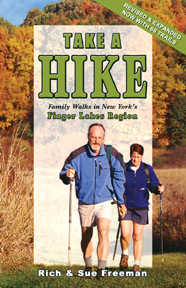 ---
© 2013, Sue Freeman
Sue is author of Take a Hike, Take Your Bike!, Snow Trails, and many other guides to the natural beauty of central and western New York State.
---