YOUR ONLINE RESOURCE FOR KIDS AND FAMILIES
4th of July Fireworks, Parades, and Events in the Buffalo Area
Enjoy Independence Day fun with your families throughout WNY! KidsOutAndAbout has the complete list of area fireworks, parades, parties and more!
---
---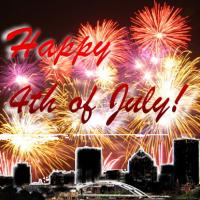 July Fourth Celebrations for 2014
June 28
Bring your family to Clarence for a full day of super packed fun! Activities, food, music, the annual Bark in the Park and, of course, fireworks!
July 2
July 3

Fun for all with a parade, entertainment, food (roast beef, hot dogs, popcorn, pizza, taco in a bag, pie slices, cookies, drinks & ice cream), and of course, FIREWORKS!

1:30-3:30 pm - Frothy, foamy fun! In Hamlin Park near Griggs Place. Jump into a foam bath from an East Aurora Fire Truck! Bathing suits and goggles recommended, hose off the "safe soap" when finished.

7:00-7:30 pm - Independence Day Parade sponsored by the EA Moose Lodge - Parade begins promptly at Main & Riley, and proceeds down Main St., then left on South Grove to Hamlin Park. All are welcome!
Kids parade on wheels sponsored by Vidler's - for kids under 5, over 10, and all ages in between! Meet in front of 7-11, children age 8 and under must be accompanied by an adult. Decorate bikes, strollers, buggies, skateboards, wheelchairs, roller blades, anything that rolls! Children who participate in the parade will receive a $1.00 gift certificate to Vidler's when they finish at Hamlin Park.

8:00 pm - Concert and Stage Show - in Hamlin Park after the parade. Featuring "Krossfire" in the baseball outfield; and "Jest for Laughs" with Nels Ross Cremean in a knock your socks off, laugh till it hurts variety theater show at the Rotary Bandstand. Sponsored by East Aurora Moose Lodge #370, the Rotary Club of East Aurora.

10:00pm - FIREWORKS!

Rain date for fireworks is July 4. All other activities will be canceled.


Fireworks; July 3rd at 10:00 pm. Community Festival July 3,4, 5. Lots of activities!
Join us at the 20th Independence Eve Celebration with a post game concert from the Buffalo Philharmonic Orchestra & Chorus and the Largest Fireworks Show of the Season. The game, the military tributes, the skits and big board videos, it's a celebration of everything that is great about America. 
Date: Wednesday, July 2 - Friday, July 4, 2014
Time(s): 
Wed. 7/2 from 6:00pm - 11:00pm;
Thurs. 7/3 from 12:00 noon - 11:00pm
Fri. 7/4 from 8:00am - 11:00pm

Rides continue on Sat. 7/5 from 1:00pm - 11:00pm & Sun. 7/6 from 1:00pm - 9:00pm 

10 p.m. Best viewed from Lake Ontario Shoreline, Krull Park, and Olcott.
The prettiest fireworks on the lake! Boats sail and motor on the lake while fireworks burst into colors overhead. Fireworks are shot off the west pier. Free admission. 

Tonawanda Independence Day Ceremony and Fireworks! 
The Town of Tonawanda Youth, Parks and Recreation Department will be celebrating the Independence Day Holiday at Kenney Field with a concert by the American Legion Band of the Tonawandas and a fireworks display at dusk. It will all be preceded by a special ceremony to honor Korean War veterans. Rain date for Fireworks only July 5th.
July 4, 2014
Allegany State Park will celebrate Independence Day on July 3 by inviting the public to bring their lawn chairs to Quaker Beach for an evening of food, fireworks and fun.

The entertainment begins at 7 p.m.with a Dixieland band and  The Erie County Wind Ensemble will perform at 8:45 p.m. and the spectacular fireworks display over Lake LaSalle begins at 10 p.m.  Watch the fireworks at or near Baird Point and other spots on the North Campus. You can also park along Millersport Highway, Sweet Home Road and other nearby roads. 
Akron  - Russell Park (RP), Veterans Park(VP) / Brooklyn Park(BP) 
8:00 am           Masons Pancake Breakfast
9:00 am           Historical Society Tours and Annual Pie Sale
11:00-6           First United Methodist Church BBQ at Russell Park Shelter - (RP)
Trinity Church /Newstead Exempts - Food Stands
12:00 - 4:00    Akron Lions Bocce Ball Tourney and Kan Jam Tourney-BP
(Hot dogs, chips, pop & water)– BP
2:00                 Soap Box Derby- Top of Main - All ages welcome
4:30                 Traditional Parade down Bloomingdale & Main St.
6:00                 Clowns, Balloons & face painting /Ford Gum Bubble gum contest (RP)
6:15                 Alexander band in Gazebo - (RP)
8:00-9:30    Akron Community Band Concert in the Gazebo - (RP) 

6:00-12:00      Beer Tent/ Gambling tent/ I Got It! /games/kiddie rides/
bounce house/big slide/family activities/etc - (VP)
Clouse French Fries/Wine Not/Macarollin'/Cheesy Chick/Newstead Exempts
5:00-7              "No Vacancy" Band (VP)
7:30-11            "Not Quite Right" Band (VP)
Enjoy a day full of activities with your family! 10pm Fireworks!
The Parade stepoff is at noon and the route is Walden to Harlem to the Town Park. Enjoy concerts and activities throughout the day!
Music at the Lions Pavilion: 1:00 pm to 5:30 pm "Special Delivery" and "The Strangers" from 6:30 to 10:30 pm. Fireworks at dusk in the same park!
Live music, food vendors, a large open space for people to sit, and a nice view of the lake at Memorial Park. Free parking is available on the street and in nearby parking lots.  Fireworks at 10 pm.
Sponsored by the Town, Elma's annual fireworks display will be held behind the EMW Boys and Girls Club at dusk. The public is asked to park in the Iroquois School parking lot across the street for the best vantage point. Rain date is July 5th.
9 a.m. Annual Dick Bessel Independence Day Run, Kids Run, and Parade along G I Blvd.
Fireworks at Martin's Fantasy Island at dusk after water park closes. Grand Island residents may enter the Park for Fireworks at 9 p.m. with proof of residence. Anyone may purchase discounted admission for the whole day, with special activities, and stay for the fireworks.
Lakewood Family YMCA Fireracker Race:
Registration: 7:00 – 8:30 AM – Hartley Park/Beach
10K Race: 9:00 AM
Kids Race: 9:30 AM
Entry Fee: $20.00 / $25.00 Day of the Race
Kids Races: FREE
M&T Bank Money Hunt: 11:00 AM – Hartley Park/Beach (ages 2-10)
Summerfest Schedule of Events
CHAUTAUQUA AVE:
2:00 PM - Street Sales: Vendors will offer a variety of foods, gifts, crafts, etc
2:00 – 8:00 PM - Live Music at Yesterdays  & Food Booth
HARTLEY PARK:
6:00 – 10:00 PM Music
10:00 PM Fireworks Display by Zambelli Fireworks
Lancaster Independence Days
The Chautauqua County Celebration - 10 am parade followed by activities, events, food and live music at Lakeside Park. At 10 pm, a huge fireworks display and the annual tradition of flares around the lake.
10 p.m. This spectacular display comes from the Canadian side of the Falls, courtesy of Niagara Parks Commission. Best vantage points for viewing: Oakes Garden Theatre & Queen Victoria Park in Canada, Prospect Point in NY, or try watching from the Rainbow Bridge (50c pedestrian toll). If you are passing through on July 1 you can enjoy the same fireworks for Canada Day.
City of Niagara Falls Fireworks 
9:45 p.m., at Sal Maglie Stadium, 1200 Hyde Park Blvd.; rain date, July 5
12:20 p.m., Olcott. Straight from a Norman Rockwell painting, this parade is nostalgic, patriotic and fun! Dress up in red, white and blue and decorate your bikes and wagons. Meet at the Krull Park overlook in the north park by noon and march to Olcott Beach Carousel Park. Free ice cream and ride ticket for participants.
City Set For A BOOMING FOURTH! Bradner Stadium gates open at 4 PM. The fireworks are organized by the Olean Professional Firefighters Association, OPFFA. The 2014 Fireworks Celebration will be a fun-filled evening of great music, mouth-watering food, family entertainment and socializing culminating with a spectacular fireworks show at dusk.
Coolers and packages carried into the stadium will be checked for security reasons. In case of inclement weather, the fireworks will be scheduled for the next clear night.
Step off at 8 pm. The parade runs from Baker Road to Quaker Street (Route 20A) to Lincoln Avenue to the Middle School. The town puts on a fireworks display after the parade at the pavilion behind the Middle School.



 July 5th
Join us for a must-see fireworks display at Seneca Niagara Casino & Hotel. Don't miss the dazzling display of bright colors, guaranteed to light up the night sky!  Rain Date: Sunday, July 6
---
---