4th of July Fireworks, Parades, and Events in the Buffalo Area
---
---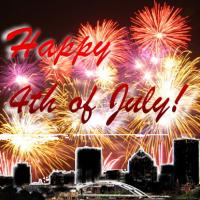 July Fourth Celebrations for 2015
June 27
Bring your family to Clarence for a full day of super packed fun! Activities, food, music, the annual Bark in the Park and, of course, fireworks!
July 2
Join us for a must-see fireworks display at Seneca Niagara Casino & Hotel. Don't miss the dazzling display of bright colors, guaranteed to light up the night sky! Begins at 9:40 pm.

July 2 - 4
Thurs . 7/2 from 6 - 11pm;
Fri. 7/3 from Noon - 11pm
Sat. 7/4 from 8am - 11pm
Head to the Village of Lancaster with your families to celebrate the annual Independence Days Festival! Carnival rides, contests, music, delicious food, Cute Baby Parade, 4th of July Parade and FIREWORKS!
July 2 - 4
Families will enjoy a parade, family activities, entertainment, food and FIREWORKS (on the 3rd) at the Akron Independence Day celebration! Just head to Veteran's Park;
July 3
July 3
Fun for all with a parade, entertainment, food (roast beef, hot dogs, popcorn, pizza, taco in a bag, pie slices, cookies, drinks & ice cream), and of course, FIREWORKS at 10!  Rain date for fireworks is July 4. All other activities will be canceled.
July 3
Join us at the 21st Independence Eve Celebration with a post game concert from the Buffalo Philharmonic Orchestra & Chorus and the Largest Fireworks Show of the Season. The game, the military tributes, the skits and big board videos, it's a celebration of everything that is great about America. 
July 3
10 p.m. Best viewed from Lake Ontario Shoreline, Krull Park, and Olcott.
The prettiest fireworks on the lake! Boats sail and motor on the lake while fireworks burst into colors overhead. Fireworks are shot off the west pier. Free admission. 


July 3
Allegany State Park will celebrate Independence Day on July 3 by inviting the public to bring their lawn chairs to Quaker Beach for an evening of food, fireworks and fun.
July 4
July 4
The Town of Tonawanda Youth, Parks and Recreation Department will be celebrating the Independence Day Holiday at Kenney Field with a concert by the American Legion Band of the Tonawandas and a fireworks display at dusk. It will all be preceded by a special ceremony to honor Korean War veterans. Rain date for Fireworks only July 5th.
The entertainment begins at 7 p.m.with a Dixieland band and  The Erie County Wind Ensemble will perform at 8:45 p.m. and the spectacular fireworks display over Lake LaSalle begins at 10 p.m.  Watch the fireworks at or near Baird Point and other spots on the North Campus. You can also park along Millersport Highway, Sweet Home Road and other nearby roads. 
Enjoy a day full of activities (from 2 - 11 pm) with your family! 10pm Fireworks!
The Parade stepoff is at 11 am (new this year!)and the route is Walden to Harlem to the Town Park. Enjoy concerts and activities throughout the day!
Music at the Lions Pavilion: 1:00 pm to 5:30 pm "Special Delivery" and "The Strangers" from 6:30 to 10:30 pm. Fireworks at dusk in the same park!
Live music, food vendors, a large open space for people to sit, and a nice view of the lake at Memorial Park. Free parking is available on the street and in nearby parking lots.  Fireworks at 10 pm.
Sponsored by the Town, Elma's annual fireworks display will be held behind the EMW Boys and Girls Club at dusk. The public is asked to park in the Iroquois School parking lot across the street for the best vantage point. Rain date is July 5th.
9 a.m. Annual Dick Bessel Independence Day Run, Kids Run, and Parade along G I Blvd.
Fireworks at Martin's Fantasy Island at dusk after water park closes. Grand Island residents may enter the Park for Fireworks at 9 p.m. with proof of residence. Anyone may purchase discounted admission for the whole day, with special activities, and stay for the fireworks.
Celebrate Independence Day in Lakewood with the annual Firecracker Run followed by fun activities along Chatauqua Avenue and Fireworks at Hartley Park!
The Chautauqua County Celebration - 10 am parade followed by activities, events, food and live music at Lakeside Park. At 10 pm, a huge fireworks display and the annual tradition of flares around the lake.
9:45 p.m., at Sal Maglie Stadium, 1200 Hyde Park Blvd.; rain date, July 5
12:20 p.m., Olcott. Straight from a Norman Rockwell painting, this parade is nostalgic, patriotic and fun! Dress up in red, white and blue and decorate your bikes and wagons. Meet at the Krull Park overlook in the north park by noon and march to Olcott Beach Carousel Park. Free ice cream and ride ticket for participants.
City Set For A BOOMING FOURTH! Bradner Stadium gates open at 4 PM. The fireworks are organized by the Olean Professional Firefighters Association, OPFFA. The 2015 Fireworks Celebration will be a fun-filled evening of great music, mouth-watering food, family entertainment and socializing culminating with a spectacular fireworks show at dusk.
Coolers and packages carried into the stadium will be checked for security reasons. In case of inclement weather, the fireworks will be scheduled for the next clear night.
Orchard Park Fourth of July Parade and Fireworks! 

 
Step off at 8 pm. The
parade
runs from Baker Road to Quaker Street (Route 20A) to Lincoln Avenue to the Middle School. The town puts on a
fireworks
display after the parade at the pavilion behind the Middle School.
---
---