4th of July Fireworks, Parades, and Events in the Buffalo Area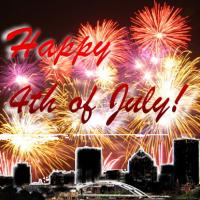 July Fourth Celebrations for 2013
July 3 - 7
Buffalo: The 4th at Riverside (Facebook page) Located at the east end of Lake Erie, organizers in Fort Erie, Ontario, and Buffalo, New York, annually co-host a series of exciting events over a period usually running from the last weekend of June until just after July 4th. The event traditionally hosts two parades one on July 4th and the other on the 6th, one for children and a traditional parade in the afternoon. We also host an assortment of family themed contests such as a Miss Friendship Festival Beauty Pageant, a Pie Baking contest, Talent Show, Fishing contest, Beautiful Baby contest, Kid's Day and more.

June 29
Clarence Day in the Park
2 p.m. until fireworks at Town Park, Main St.
Street hockey tournament, bounce house, laser tag, ponies, food. Facebook page
July 3
AllaganyState Park Independence Day Celebration
Allegany State Park will celebrate Independence Day on Tuesday, July 3 by inviting the public to bring their lawn chairs to Quaker Beach for an evening of food, fireworks and fun.

East Aurora Independence Day Celebration
Schedule of Events
1:30-3:30 pm - Frothy, foamy fun! In Hamlin Park near Griggs Place. Jump into a foam bath from an East Aurora Fire Truck! Bathing suits and goggles recommended, hose off the "safe soap" when finished.

7:00-7:30 pm- Independence Day Parade. Parade begins promptly at Main & Riley, and proceeds down Main St., then left on South Grove to Hamlin Park. All are welcome!

Kids parade on wheels - for kids under 5, over 10, and all ages in between! Meet in front of Wilson Farms, children age 8 and under must be accompanied by an adult. Decorate bikes, strollers, buggies, skateboards, wheelchairs, roller blades, anything that rolls! Sponsored by Vidler's. Children who participate in the parade will receive a $1.00 gift certificate to Vidler's when they finish at Hamlin Park.

Aurora Baseball/Softball, Aurora Arsenal Soccer, EAST, Little Loop - Put on your uniforms and march with your team!


8:00 pm - Concert and Stage Show-in Hamlin Park after the parade. Featuring "Ricky Lee" in the baseball outfield; and "Jest for Laughs" with Nels Ross Cremean in a knock your socks off, laugh till it hurts variety theater show at the Rotary Bandstand. Sponsored by East Aurora Moose Lodge #370, the Rotary Club of East Aurora and The Made in America Store

10:00pm - fireworks!

Rain date for fireworks is July 4. All other activities will be canceled.
Akron (Event Facebook Page)
July 3 and July 4!
July 3. Kid's parade at 5:30 pm, Akron Band plays at 7 pm There are 8 - 10 rides, which are open from 5-9 p.m. Fireworks at 10 p.m. The ride tickets are $1 and rides vary from 2 - 6 tickets, so the $14 wrist band per day is a good buy. Lots of food stands.
Buffalo Philharmonic Orchestra & Chorus and the Buffalo Bisons at Coca Cola Field
July 3 $24 per ticket or discounted price for 4.
First, the Bisons take to the field at 6:05 p.m. After the game, sit back and enjoy a great post game concert from the Buffalo Philharmonic Orchestra and Chorus. As the concert ends, the largest fireworks show of the season begins.
Lancaster Independence Days July 3 - 5
July 3: 1 - 11 p.m.
1 pm Rides Open
7 -11 pm Country Night with West of the Mark
Olcott's Fireworks over Lake Ontario
Wednesday, 10 p.m.Best viewed from Lake Ontario Shoreline, Krull Park and Olcott. The prettiest fireworks on the lake! Boats sail and motor on the lake while fireworks burst into colors overhead. Fireworks are shot off the west pier. Outdoor event. Free admission.
July 4, 2013
Amherst, University at Buffalo North Campus
The entertainment begins at 7 p.m. with a performance by the Billy McEwen Band. The Erie County Wind Ensemble will perform at 8:45 p.m. and the spectacular fireworks display over Lake LaSalle begins at 10 p.m. Watch the fireworks at or near Baird Point and other spots on the North Campus. You can also park along Millersport Highway, Sweet Home Road and other nearby roads.
Akron (July 3 & 4) - Russell Park
8:00 am Mason's Breakfast
12 noon Bocce Tournament
12 noon United Methodist Church BBQ in shelter
12 noon Kiddie Parade
12 -3:00 Pringles the clown (face painting)
12:30 Big league Chew (Gazebo) sponsored by Ford Gum
2-3:30 The Bridge (Entertainment in the Gazebo)
4:30pm Annual 4th of July Parade
6:00pm Alexander band

Buffalo: Annual Fourth of July Celebration at Canalside
Enjoy a day of activities with your family!
10 am: Family Lake Exploration Program
12 pm: Stories of Buffalo Puppet Show
1 pm: Architecture and Education with Kevin McCarthy, a Patriotic Show presented by Young Artists of WNY
6 pm: Activities with Explore and More Children's Museum
7 pm: Niagara ARB Flag Folding Ceremony
7:30 pm: The George Scott Big Band
9 pm: Buffalo Niagara Concert Band
10 pm: Fireworks!

Buffalo: The Fourth at Riverside Park July 3 - 7
July 4th:
2, 4 and 6 pm: Canine Sports Complex (Dog Agility Demonstrations)
10 am – Noon: Kiddie Parade
1 – 2 pm: Grand Parade
1 - 10:30 pm: Ride Specials! Pay One Price
2 – 5:30 pm: Latin Steel Drum Band
6 pm: Davey Zee
Fireworks at dusk
Cheektowaga on the 4th
Parade assembles at 11:30 at the Thruway mall; stepoff at noon, and the route is Walden to Harlem to the Town Park. Enjoy concerts and activities throughout the day and Fireworks at dusk in the same park!
Dunkirk Independence Day Celebration
Live music, food vendors, a large open space for people to sit, and a nice view of the lake at Memorial Park. Free parking is available on the street and in nearby parking lots. Fireworks at 10 pm
Sponsored by the Town, Elma's annual fireworks display will be held behind the EMW Boys and Girls Club on Wednesday July 4th at dusk. The public is asked to park in the Iroquois School parking lot across the street for the best vantage point.
Grand Island
July 4th 9 a.m. Annual Dick Bessel Independence Day Run, Kids Run, and Parade along G I Blvd.
Fireworks at Martin's Fantasy Island at dusk after water park closes, Grand Island residents may enter the Park for Fireworks at 9 p.m. with proof of residence. Anyone may purchase discounted admission for the whole day, with special activities, and stay for the fireworks.
Lakewood 4th of July Summerfest
Lakewood Family YMCA Fireracker Race:
Registration: 7:00 – 8:30 AM – Hartley Park/Beach
10K Race: 9:00 AM
Kids Race: 9:30 AM
Entry Fee: $20.00 / $25.00 Day of the Race
Kids Races: FREE
M&T Bank Money Hunt: 11:00 AM – Hartley Park/Beach (ages 2-10)
Summerfest Schedule of Events
CHAUTAUQUA AVE:
2:00 PM - Street Sales: Vendors will offer a variety of foods, gifts, crafts, etc
2:00 – 8:00 PM - Live Music at Yesterdays by "Pressure Sensitive" & Food Booth
HARTLEY PARK:
6:00 – 10:00 PM Music by "Total Chaos"
10:00 PM Fireworks Display by Zambelli Fireworks
Lancaster Independence Days July 3 - 5
8 am Flag Raising @ Faireman's Park
8 am Faith Service on Stage
9 am Baby Contest on Stage
9 am Boys & Girls Club 10K Run
12 noon Rides open
12 noon Town Band on Stage
2 pm Parade
3 - 5 pm Wonderfair @ Lancaster Presbyterian Church
6 - 10 pm Breakaway on Stage
10 pm Fireworks
The Chautauqua County Celebration- 10 am parade followed by activities, events, food and live music at Lakeside Park. At 10 pm, a huge fireworks display and the annual tradition of flares around the lake.
Niagara Falls: Independence Day Fireworks over the Falls!
10 p.m. This spectacular display comes from the Canadian side of the Falls, courtesy of Niagara Parks Commission. Best vantage points for viewing: Oakes Garden Theatre & Queen Victoria Park in Canada, Prospect Point in NY, or try watching from the Rainbow Bridge (50c pedestrian toll). If you are passing through on July 1 you can enjoy the same fireworks for Canada Day.
Niagara Falls, NY

The City of Niagara Falls NY has fireworks July 4 at 9:30 in Hyde Park. Rain date July 5.
Olcott Patriot's Parade
Thursday, 12:30 p.m., Olcott. Straight from a Norman Rockwell painting, this parade is nostalgic, patriotic and fun! Dress up in red, white and blue and decorate your bikes and wagons. Meet at the Krull Park overlook in the north park by noon and march to Olcott Beach Carousel Park. Free ice cream and ride ticket for participants.
City Set For A BOOMING FOURTH! Bradner Stadium, Olean, gates open at 4:00 PM. The fireworks are organized by the Olean Professional Firefighters Association, OPFFA.
Orchard Park Fourth of July Parade
Step off at 8 pm. The parade runs from Baker Road to Quaker Street (Route 20A) to Lincoln Avenue to the Middle School. The town puts on a fireworks display after the parade at the pavilion behind the Middle School.



July 5th
Niagara Falls, Seneca Niagara Casino - 9:30 pm
Join us for a must-see fireworks display at Seneca Niagara Casino & Hotel. Don't miss the dazzling display of bright colors, guaranteed to light up the night sky! Rain Date: Saturday, July 6
The Town of Tonawanda Youth, Parks and Recreation Department will be celebrating the Independence Day Holiday on Friday, July 5, at Kenney Field with a concert by the American Legion Band of the Tonawandas and a fireworks display at dusk. It will all be preceded by a special ceremony to honor World War II veterans.