Master Guide to December Holiday Fun in Buffalo & Erie County, NY
As soon as the cold weather arrives, our thoughts naturally turn to the holiday season! We prepare for it for weeks if not months. Here is your master guide to the holidays!
The following organizations providing holiday activities have elected to be featured on this page:

Tour at Genesee Country Village

Mumford, NY

Fri/Sat/Sun Dec 2-18, 2016
Directions

Nothing conjures the holiday spirit like a trip back in time for a glimpse of holiday traditions of old! The historic village will be aglow with festively decorated homes for its traditional Yuletide in the Country the first three weekends in December. Enjoy reenactments of Yuletides past in each of the buildings featured on the tour, and much more.
---
Christmas Tree Farms
Do you cut your own Christmas tree? Here's our big list of farms where you can cut your own Christmas tree in greater Buffalo.
---
FREE holiday events in greater Buffalo
You think you can't get anything free anymore? Nonsense! Here are a bunch of free holiday events coming up in greater Buffalo.
---

Chanukah
Hanukkah begins in the evening of December 6, 2015, and ends on the evening of December 14, 2015. Click here for upcoming Chanukah activities!
---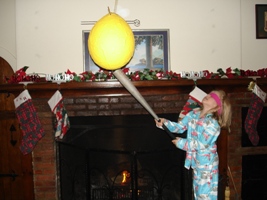 Lightbulb Day
Lightbulb Day is celebrated on the Winter Solstice, on or about December 21. Click here to find out what it is!
---
Kwanzaa
Kwanzaa is celebrated December 26-January 1 each year. Click here for upcoming Kwanzaa activities!
---
Christmas
We have subdivided this list into categories below, but to see one easy list of ALL upcoming Christmas activities, click here!
---
Breakfast with Santa
There are lots of Breakfasts with Santa (and sometimes, Breakfast with the Grinch!). Get your tickets early, because these tend to sell out. Click here for Holiday Breakfasts.
---
New Year's Eve Activities
Click here for KidsOutAndAbout's list of family-friendly New Year's activities in the Buffalo area
---
Holiday concerts, shows, and other performances
There are lots of special concerts and shows... and some of them are free! Click here for the entire Holiday Performance list.

---
---
 © 2015, KidsOutAndAbout.com
And now for a list of all December Holiday events: