Review of Holiday Hollow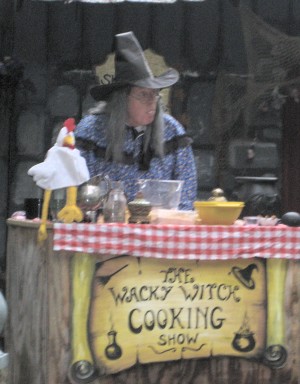 Putting the "Happy" Back in "Happy Halloween"
Reviewed October, 2004 by Debra Ross, and updated October, 2012
Holiday Hollow is located just south of the New York State Thruway in Corfu, NY at exit 48A, Pembroke/Medina. (The same exit as Darien Lake.) As publisher of this web site, I go "out and about" a lot with my kids. Very often, of course, we go for their sake; absent the kids, these are often not places I would choose to go myself. A lot of Halloween activities are like that, especially since my children are only 3 and 5.
My husband and I are used to these attractions being somewhat...well... let's just say it...cheesy. So when we took the girls to Holiday Hollow in Pembroke, NY on a sunny October Sunday, we went in with our customary grin-and-bear-it attitude. But, I'm happy to say, we came out just grinning. And I'm here to report that the art of parody is alive and well in Western New York.
Although it is billed as "America's only Halloween village," Holiday Hollow is not a scary place, not a hayride, not a farm, not a corn maze...so just what is it? Holiday Hollow is a creation entirely of the Walkers, a family with a flair for both carpentry and comedy. Located midway between Rochester and Buffalo, just south of the Thruway and just north of Darien Lakes, it is a small version of an Elizabethan village, with a pirate ship thrown in for good measure.
Four shows--the "Littlest Pumpkin Talking Pumpkins Show" in Sir Timothy's Theater, Madame Stromboli's fortune telling show, the Captain Hook Pirate Show, and the Haunted Forest Adventure--are the core entertainment at the village, with various other attractions such as games, food, and a walk through the Haunted Hotel rounding out the selections.
George and Barbara Walker came up with the idea with their then-teenagers around the dinner table. Possessed (so to speak) with the perfect plot of land along Route 5, the Walkers have created, since 1992, a place where young and old can have a wonderful time without straining the budget.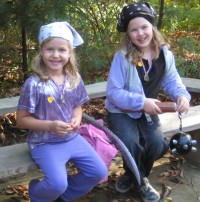 The point, it is obvious, is parody. It's to have fun. The Walkers employ a mixture of professional actors and sincere amateurs (including, of course, themselves) that have brought the place to life.
Although it is possible that a small child with a vivid imagination might be afraid of, say, a college student with a pumpkin over his head, that's about as scary as it gets at Holiday Hollow.
And although I say "actors," I should probably correct that to "comedians" -- because the emphasis is definitely humor. Holiday Hollow is small in size compared with, say, the Sterling Renaissance Festival, but for us was a much better experience than Sterling. Where Sterling's focus is on spectacle and can be a bit overwhelming, Holiday Hollow's goal is parody -- actual intelligence, actual wit, and actual acting lead to a rich enjoyment of the whole experience, whether you're 5 or 75.
Sterling strives to be representative of the actual Renaissance, but it seemed to me just to fall flat. Holiday Hollow strives to parody our fascination with the past, and it's perfect, and uniquely American in the bargain (despite, or perhaps partly because of, all of the foreign accents).
We seem to have lost faith in the notion that something can be funny without being offensive. Not so at Holiday Hollow. Any old place can say it has "fun for the whole family." With comedy, that often means that the "adult" part is just thinly-disguised sex or potty jokes.
It's true that Holiday Hollow has its share of double entendres, but in fact, the more culturally literate you are, the more puns you'll catch. My husband and I had a blast. But our friend Tatiana, who came along, often had to ask us, between our guffaws, just what was so funny! (Not her fault, she's from Cuba.)
Now, just because we adults enjoyed it so much doesn't mean it's not appropriate for kids...the place has an aura of silly magic that's wonderful for everyone. That's me, to the right, doing the Macarena on stage during the Hook and Smee show in 2008.
The other important aspect of Holiday Hollow is that, unlike just about every other venue of its kind, it is not looking to suck your wallet dry.
Admission (as of 2007) is only $11 for adults, $10 for kids age 3-10, and you can even get a coupon for $1 off per ticket at the Holiday Hollow web site.
When we visit most other places, we sense that they are charging as much for food and fun that they can possibly get away with. I have no opposition to this in principle (I'm a good capitalist) but frankly I get tired of groaning every time I have to reach into my purse. I'll never forget the $8 for cotton candy at the circus.
But Holiday Hollow is thoroughly different. It's so refreshing. We're delighted to pay $1 for that bag of popcorn, or $2 for the hot dog, or $5 for the yummy pulled pork platter, and each of us privately hopes that the Walkers are charging enough to keep the place going (see more about that in George's interview on page 2).
One feature of Holiday Hollow that was worth the extra money for us was having my daughters' caricatures done by El Marko, the Holiday Hollow caricaturist. I can't repeat his corny remarks because they would seem odd out of context and besides I can't begin to mimic his Spanish accent, but I am still laughing days later. And as you can see, he's quite talented! (Update: El Marko is no longer at Holiday Hollow.)
There are three "down sides" to Holiday Hollow, as far as I can tell. First is the presence of a single port-a-potty to serve all of the visitors. When a 3-year-old is jumping up and down with four people in front of her, the significance of this becomes obvious. (Update: Apparently real bathrooms are next on the list!) Next is that because so much is outside, it's not a great place to go in the rain. (Update: They have built a new building with a theater where the shows are held in case of rain. We didn't use it, as we went on a sunny day.)
Last, it's a bit of a hike for Rochesterians on the east side or in northern Wayne county. We spent a good hour getting there from Fairport.
2008 Update
If you get to Holiday Hollow by noon, you can be sure of seeing all seven shows. My kids say that you can't miss The Hunt for Jekyll and Hyde, the Cooking show, and Madame Stromboli.
The actress who plays Madame Stromboli, Ashley, was really good this year. The pumpkin puppet show was particularly good for the younger kids. What is not good for the youngest kids, though, is the haunted library.
8-year-old Madison (the former 5-year-old mentioned above) enjoyed it without turning a hair, but even just the darkness scared 6-year-old Ella so much that she didn't even make it to the little scene in the library. I have a feeling that if she'd just stuck it out until the little show started that she would have been fine, but apparently she was terrified that someone would jump out from the darkness and grab at her. (No one does, it's just dark.)
The Jekyll and Hyde show/hike was hands-down the funniest this year, as it was three years ago. That George Walker (see interview below) is wonderful.
Ella, though, thinks that George Walker's portrayal of the Wacky Witch cook was the best. When you go, take $5 extra per child to do the games down the hill. There are three games, and they had a blast doing each one of them.
"Miss Muddy," who runs the "tests" game, is Ashley Versage, who is new this year. She's a student at SUNY Brockport, and she was brilliant. My kids loved her.
In General
To see additional photos of Holiday Hollow (2007), click here. Holiday Hollow is open weekends in October, including the Monday of Columbus Day. In 2012, the last day will be October 28. Expect to spend two to three hours enjoying yourself. In short: Perfectly worth the money, and well worth the trip. For directions, click here.
Click here for Page 2 of our Review of Holiday Hollow
******************