Interview with George Walker of Holiday Hollow
Click here to return to page 1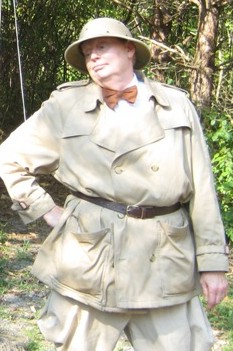 Interview with George Walker, Owner of Holiday Hollow, Corfu, New York:
KOA: Tell me a little bit about when and how you and your family first came up with the idea for Holiday Hollow.
George Walker: Having spent some time as owners of a children's wilderness camp in Canada, my wife Barbara and I realized that we just have to be involved with kids and families. We thought about opening an alternative Halloween place – not all the horror and gore, but not a hayride farm or corn maze either. The ideas evolved slowly around the family dinner table while our now-20-something kids were in their teens. Everyone brainstormed and there were hilarious evenings of fun. We built Cricket Cottage and the Puppet Theater.
I did the corniest Haunted Forest Adventure you could imagine – but people still remember some of the jokes. It was entirely different from what you see today – it was our VERY humble version of Disney World's Jungle Cruise, where families ride a boat through very sophisticated set-ups while the guide tells terribly corny jokes. On our first "Haunted Walk," I led guests through incredibly UNsophisticated setups – but with puns equally as bad as the Jungle Cruise. We served hot dogs out of the back of the Puppet Theater. It was humble! We have added something just about every year since then.
KOA: Is Holiday Hollow entirely funded by revenues? If so, how do you keep the prices so low?
George Walker: Yes, it is entirely funded by revenues. Right now we pour our proceeds back into "the Village." When I retire, I do hope that we can start generating some supplement to my pension and social security...that's the long term objective. It's scary, because we set prices based on optimism about the weather. If we have 7 rainy days out of the 9 we're open – as happened in 2003 – ouch!
But having raised four children, and having trekked, as I know you and your husband do, to many events, we're very sensitive to how costs can add up by the time you pay admission, buy food, etc. One of the things we worried about when we introduced the extra games and caricature art is that people might feel that they paid admission and then saw hands out for more money at every turn.
That's why greeters at the "ticket turret" are instructed to tell guests that the games are extra, but that they're a show in themselves – you can be entertained by just watching others play them.
Over the years, we have accumulated a bevy of young friends who also perform for meager "honorariums." They do it, I sincerely believe, because they, too, have caught the dream of making a magical place and feeling good about it at the end of the day. We also draw performers from Genesee Community College's theater program – and they're delighted to be able to actually get paid to perform. Humble pay, but pay! In short, the idea was not so much to start a business as to "make magic" for families. That's our reward. We need to make money, but it's not about the money.
KOA: Which family members are involved and what are their roles? Does it take up a great deal of your time through the year?
George Walker: Barb designs all the buildings. We build them together. We do all our own construction (except electrical, for safety reasons). This is how we spend our vacations and weekends. (Are we CRAZY??? No, we love it! Isn't a vacation doing what you love?)
After our eldest son, Kirk (George IV), did a Disney internship in Florida and then went on to USC film school in California, he began making very substantial contributions. He wrote the Captain Hook script and designed the pirate ship set. Kirk, back from film school and a local entrepreneur in his own right, is our operations manager and director of shows.
Our son Joshua is an attorney in NYC and now gives us legal advice. You still hear his voice on the puppet show recording. When he was at home, he cooked the hot dogs and helped us build. Daughter Kelley (now a mom and about to present us with our second grandchild) ran the gift shop and did face painting. Barb and Kelley make all the crafts.
Kelley's husband used to run Admiral Portley's [galley], until Dad duty took over, so he and Kelley are not as involved anymore. Zach, who currently runs Admiral Portley's and is also a Disney internship alum, has been a Haunted Adventure guide, puppeteer (with his mother), and helped put the roof on Sir Timothy's theater when he was a mere 12 years old.
KOA: What's it like having a small old English village almost literally in your backyard? Do you leave the structures up all year?
George Walker: Yes, although there's no heating or plumbing, they are otherwise permanent structures and stay up year round. Frankly, it's awesome having Holiday Hollow in our backyard. Our granddaughter Lexie already thinks she owns the place – she was just SHOCKED to see so many strangers at "her" Holiday Hollow on Sunday. But then she got into it and went on the Haunted Adventure twice. Our kids are always telling us how much they wish we'd had the village when they were younger. It IS a lot to care for. We're always building new things, so constant maintenance is a challenge.
KOA: Are there new shows each year?
George Walker: We try to add something new each year, but many of our shows repeat, and when we do change them, some guests wax nostalgic about the "old" puppet show or "old" Haunted Adventure. And we do have people come back year after year – as people do at Disneyworld – expecting to see again a favorite show or character. But the big goal is to live up to our name: "HOLIDAY Hollow." Someday – perhaps it'll have to be after I retire [George's "real" job is as Vice President for Student Services at Genesee Community College] – we hope to open for other holidays as well – Christmas would be first! We hope someday to build our first year-round building – "Holiday Hall," and offer a Christmas show in that. Someday. We hope! We'd like to be open summers, too. I love storytelling (with an historical basis) and someday we may invite school groups for stories which we hope will be entertaining to listen to, but teach some history as well. Lots of dreams ahead!
KOA: When do you write them? How do you get the ideas for them?
George Walker: We're SUPPOSED to write our new scripts in the winter. This year's all new Haunted Adventure was written Labor Day, with revisions being written a week ago. That was a lot of memorization for a grandpa! Ideas? Still around the dinner table. It's fun!
KOA: How do you find the actors for Holiday Hollow?
George Walker: Finding performers is difficult. We are constantly on the lookout. Genesee Community College is certainly a help, but sometimes GCC shows conflict with our schedule and I obviously must give precedence to the college's program needs. If you know any actors – especially more mature ones who are perhaps settled and not leaving the area soon (as our GCC actors always are), we'd love to know about them. My Scottish foil on the Haunted Adventure is such a person – a local community theater actor. He's great – and has been with us for years, which helps a lot. The knife wielding evil Jack on the Forest Adventure actually started coming to Holiday Hollow when he was 8. He won a screaming contest we had back then and he remembers me saying, "You're great! You could come to work for us someday!"
KOA: It seems to me that your goal, from the outsider's perspective, is parody. Any thoughts about that, or about parody or humor in general?
George Walker: My family heritage is English. We love "the Brits" but we love to make fun of ourselves. The British stereotype is of people a bit stuffy, very understated in their speech, and yet great fun and loveable. At my childhood dinner table, we would have "pun wars," seeing how long we could last milking the same root pun. My father always held that the pun is not the lowest form of humor – it requires a quick wit and a good vocabulary. But even more important, once in a while Barb and I will catch a Lucy or Dick Van Dyke rerun and say, "Isn't it interesting that we're still laughing out loud at these reruns – and there isn't one obscene word or one blatant sex reference." We just want everyone to be comfortable – the kids are enjoying it but once in a while the parents get to wink at each other and snicker! 
---
© KidsOutAndAbout.com, 2004 & 2008. All rights reserved.