Allendale Columbia Kids Vote: Top 20 Places to Take Kids in Greater Rochester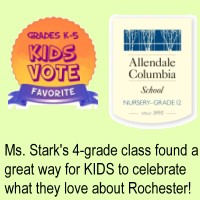 ---
As voted by Rochester-area KIDS: 2015
A group of Rochester-area kids from Allendale Columbia School saw KidsOutAndAbout's list of the Top 20 Places to take kids as voted on by parents, and decided to design their own survey to recognize the kids' perspective on which places deserve to win the top spots. Kasandra Stark's 4th grade class, with some input from KidsOutAndAbout.com, took on the project.
For four months, teams of kids in Ms. Stark's class researched places to take kids in Rochester, interviewed the people at those places who make things happen, and advocated for their own favorites with persuasive speaking and writing with their classmates. They devised a system for the kids in grades K-5 so they could vote for their favorites.
And now, the votes are in! Here are 2015's Kid-Voted Top 20 Places to Take Kids in Rochester.
 

 

 

 

 

 

 

 

 

 

 

 

 

 

 

18. 

Stokoe Farms





 
---
 
---
If you do not already subscribe to KidsOutAndAbout's weekly mailing list for our free e-newsletter, please sign up here...You'll find out everything that is happening at these places and a lot more -- way ahead of time!
Over 60 of the most BEAUTIFUL places to take kids in greater Rochester
Get some wonderful ideas from our 3-minute music video Build Myself in Rochester NY. Which are new to you?
---
© 2015, KidsOutAndAbout.com. This information may not be reproduced, in whole or in part, without the express written permission of KidsOutAndAbout.com.
---